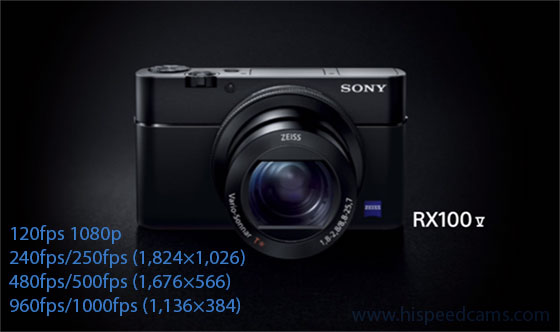 The Sony RX100 V has already started to reach reviewers and enthusiasts; the slow motion clips are starting to grace the web and there is a lot to like about the quality that the camera produces as well as the creativity behind the shots. There is a lot of power in this pocketable P&S camera and it sure makes for the perfect travel companion without all the bulk.
The quality seems slightly improved from last year's RX100 IV but now with the added addition of a faster sensor and flash memory package with twice the depth buffer allows for some very usable recordings in HFR slow motion mode.
The camera records 120fps at 1080p continuously to card but in HFR "High Frame Rate" mode in two separate modes  restricted by time see below:
Quality Priority – Near 4 Seconds rec time:
240fps/250fps (1,824×1,026)
480fps/500fps (1,676×566)
960fps/1000fps (1,136×384)
Shoot Time Priority- Near 7 Seconds rec time:
240fps/250fps (1,676×566)
480fps/500fps (1,136×384)
960fps/1000fps (800×270)
Sony RX100 V Slow Motion Samples:
Be sure to visit the footage creators with the links provided in the upper description titles. They offer some great footage and insight!
Sony RX100 V slow motion demonstratie by CameraNU.nl:
Sony Cyber-shot RX100 Mark V 960fps Slow-motion by e PHOTOzine:
Sony RX100 V review: slow motion video by Gordon Laing:
Hands on the Sony RX100 V: 100fps slow motion HD shooting by Newsshooter:
Sony RX100 V: Video Quality Sample Reel by dpreview com:
Now that you have seen the samples it is clear that the Sony RX100 V might be the best value in affordable slow motion today and will be featured prominently in our HSC Camera Guide for years to come.
We found an excellent first look walk-through of the camera in the following video by Mathieu Gasquet along with more slow motion samples. It seems many journalists and bloggers were invited to a controlled shoot situation by Sony to test the cameras so expect a lot of the footage to look close from a variety of reviews.
Sony RX100 V Hands-On Review by Mathieu Gasquet:
(Visited 4,639 times, 1 visits today)