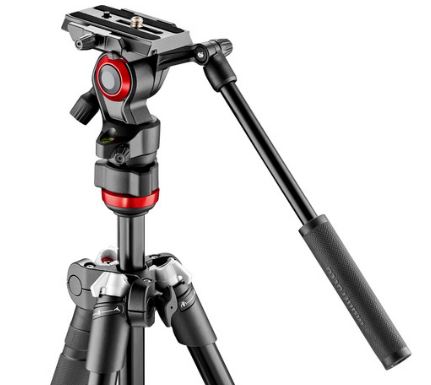 The new Manfrotto Befree Live Tripod Fluid-head may be the most ultra-portable and quality video ready fluid head out there.  Before this new model was introduced the Manfrotto 128RC and 128LP heads dominated this space. However the new model has smoother movement along with locking features that bring the line to more modern designs.  There is a big need for compact video heads which can be used with smaller slow motion capable cameras like DSLRs, Sony RX100, Sony RX10, Micro 4/3rds and Action cams.
With the miniaturization of camera gear the days of the old and heavy but dependable fluid head are nearing an end. When the tripod can be carried alongside a small camera bag in a very portable fashion; the amount of usable footage will increase due to the amount of shots set up with it due to simplicity and little fuzz.
Manfrotto BeFree Live Specifications:
Fluid Head Specifications:
Base: 40mm flat base
Camera Plate: Includes Manfrotto 501PL Sliding Quick-Release
Plate with 1/4″-20 Screw
Weight: 3.9 lbs (1.8kg)
Payload: 8.8 lbs (4kg)
Panning Range: 360 degree
Material: Aluminum
Bubble Level: Yes
Weight: 0.8 lb (0.4 kg)
Minimum Height: 17″ (43cm)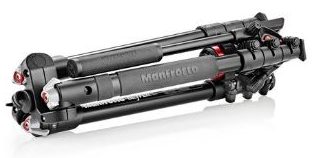 Tripod Specifications:
Maximum Height 50.5″ (128cm) with center post down , 59.5″ (151cm) with center post raised.
Folded Length: 16.5″ (40cm)
Material of Construction: Aluminum
Dimensions: 3.8″ (9.7cm) height
Weight: 3.9 lb (1.8 kg)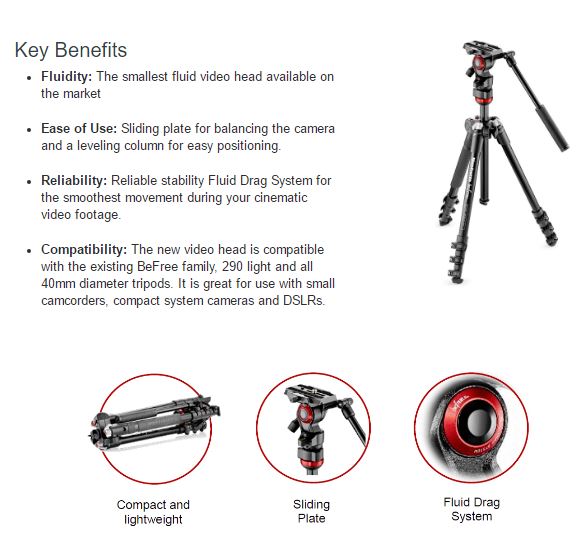 As you can see the portability and weight of the Manfrotto BeFree Live are extraordinary for a fluid drag system. The head itself just weights 0.8 lb (0.4 kg) which is almost feather-like.  When you add the tripod it weights just 2.2Kg or 4.85 lbs-  pounds. However you can use your current tripod just as well as the fluid head sports a standard 3/8″ screw mount system.
The head comes with Pan and Tilt locks as-well as adjustment for the handle position with a simple thumb screw which makes it much easier to adjust in the field.
We were big fans of the Manfrotto 128RC and 128LP Micro fluid heads and this new one at $99 USD for the head and $239.99 for the BeFree Live Tripod+Head combination seems like a great option for hiking, DSLR and ILC compacts and any slow motion gear that you need to mount on the go.  We used the edgertronic camera in a 128LP head with great success but this new fluid drag system is even more stable when tilting, panning or mixing both.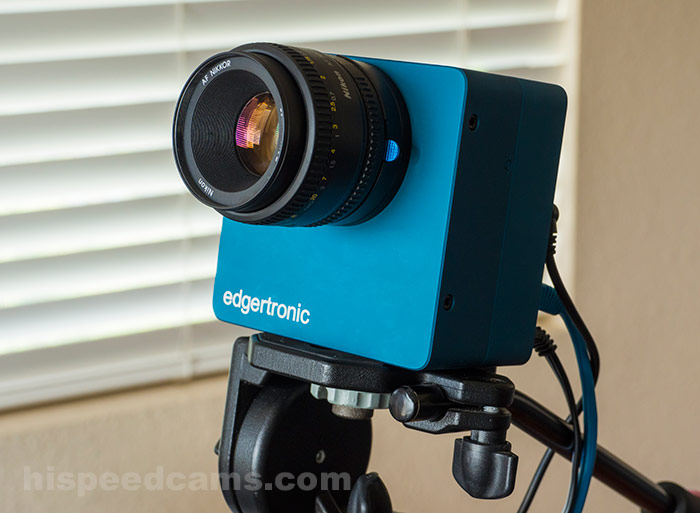 Be aware that since the total weight of the tripod and head of the Be Free Live system is under 5 lbs (2.2kg)  you will need to add a sandbag for more stability if needed with loads above 8lbs. This is expected with such a lightweight setup so plan accordingly. We briefly tested the tripod at a store and the motion and fluid drag were very good. It seems as good as the previous models but with all the advantages of new drag control and lighter weight.
You can already order the fluid Head and System from Amazon.com and or Adorama below:



The videos below show users of the new BeFree Live from Manfrotto giving it an honest review, check out their sites also by clicking on the link above each video:
Manfrotto BeFree Live Tripod Hands-On Field Review by Raiatea Arcuri:
Manfrotto Befree Live Fluid-head Tripod REVIEW and TEST FOOTAGE by OrangeBulletStudios:
Manfrotto Befree Live Tripod Review by The Travel Vlogger:
If you do get a Manfrotto Be Free Live fluid head or tripod be sure to comment on your experience below this post. Your experiences help inform others. Thank you- HSC!
(Visited 2,208 times, 1 visits today)