The rumors were in this occasion mostly true and that is a great thing for the camera enthusiast.  The Successor to the still relevant Panasonic GH4 is nothing short of a powerhouse when it comes to video.  Photo enthusiasts should still find a good balance of features in the Panasonic GH5 but it is clear that Panasonic is very serious about the GH series going forward and has once again created a flagship camera that will become a cornerstone of compact video gear. Updated Article Here!
The body has barely changed and that is also good news, the GH3 and GH4 were almost identical and it is a true and proven form factor with the now indispensable rotating tilt shift screen. Many have tried other designs but the fact remains that this type of LCD with easy positioning is still over a decade in; the best balance for video shooting on a compact DSLR or Mirror-less camera.
Panasonic GH5 Released Specs at Photokina:
4k at 60fps,50fps,30fps,25fps & 24fps
4:2:2 10-bit codec in 4k video up to 30p
6k photo mode at 30fps Aprox 18MP
1080p Mode still in (No Mention of Higher Frame Rates)
Same Form Factor as GH4, GH3
4k 60fps makes its debut on a compact camera and that is great news. 60fps is needed to do simple over-crank on footage and still today is the most used frame rate format for shooting sports and nature events as it is widely available on 1080p cameras. 50fps in PAL if used in Europe for example; however you should be able to use the GH5 as a world camera with a simple setting reset if needed.
4:2:2 10 Bit "IN CAMERA" recorded video will be supported at 24fps, 25fps and 30fps.  This is a first in quality for such a small and affordable gear.  10bit color is an incredible advancement for video cameras and will probably use a professional codec by Panasonic. Probably something like AVC Ultra on their professional line. 4k at 24p 422 10 bit should be possible under 250 Mbits/sec.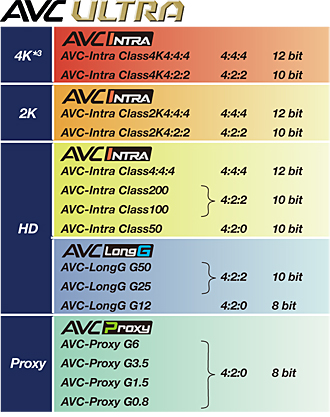 Panasonic AVC Text Copy: In February 2012, Panasonic revealed AVC-ULTRA for 4K at HPA (Hollywood Post Alliance) Tech Retreat and exhibited the 4K image (4096 x 2160 resolution, 4:4:4 sampling, 24fps) compressed to about 400Mbps from the source image of 7.6Gbps.
From the above text, we should be able to expect 4:2:2 24 and 30fps video from the GH5 at 200Mbits and easily recordable on SDXC U3 memory cards.    It is unclear if it will be Long GOP or Intra at this point but suffice it to say for any reliable color information like green screen for example; Intra would be the preferred choice.
for 60fps the GH5 will not use 10 bits of color, we expect it to use 8 bits at 4:2:2 or 4:20 for that mode.
6k Photo:
This is an extension of 4k photo mode on Lumix cameras which lets you save a still image from 4k footage.  6k Photo mode will shoot a full sensor sequence at 30fps for a short period of time and let you select the shots you want to save. It is a limited 6k overcrank level which is really 6k video at least for a short period of time.  It is unclear what the color depth in this mode will be, hopefully it will be saved as a 4:2:2 file at 10 bit but current photo mode works at 8 bit JPEG.
Panasonic GH5 Introduction Photokina 2016 from Panasonic, filmed by Brian Dragtstra:
What about higher frame rates at 1080p?
Sadly nothing has been said about 1080p frame rates that go above standard 30 or 60p.  We however expect the camera to be able to do 120fps 1080p at a minimum to be competitive with other cameras in it's class. However a case can be made for even higher frame rates considering the powerful new processing and codec pipeline needed for 60fps 4k.
192fps is one number that was thrown around in discussion forums but while possible, it is highly unlikely.  Panasonic's own DVX200 professional camera tops out at 1080p 120fps with 4k 60p. That will probably be the ceiling for now.
120fps 1080p will still be an upgrade on the GH4 which maxes out at 96fps, which is a non standard frame rate but workable at 24p as a 4x slow motion spec.
We hope to have more on this closer to the camera release by early 2017. We expect shipments to start sometime in Q2 2017 for the Panasonic GH5.
IBIS and Other features:
There is no mention of I built Image Stabilization in the camera. The also announced Lumix G80/G85 has Dual IS which is sensor based along with optional lens stabilization if available giving up to 6.5 stops of hand held anti shake. This is a feature that is widely expected for the GH5 and not mentioning it makes it a kind of troubling omission.  Will it be scrapped due to overheating concerns like it was on the GH4?  It would be ideal to have Dual IS on this camera to stabilize non electronic lenses on the camera and any attached lens with adapters like EF, Nikkor or Leica with the sensor compensation to reduce shake. Essentially all your lenses will become stabilized to some degree which is probably a feature that will make many GH4 owners upgrade just on that.
The YAGH box on the GH4 is scrapped for a new battery grip as you can see in the video below by Dan Chung and a Hot-shoe mounted dual XLR microphone attachment like the  Canon MA300 XLR adapter version on their video camera line.  This is a welcome development as well.
Newsshooter at Photokina 2016: Asking Panasonic about the GH5 by Dan Chung:
More To Come:
While early still to finalize the specs, it is encouraging to see Panasonic really playing game with the video enthusiast here. 4k at 60fps is a great spec and 4:2:2 10 bit 24,25,30fps 4k is a big leap forward for any small form factor camera. The GH5 is now a professional grade camera able to submit footage to outfits like the BBC without any problem.  If the codec is anywhere as good as AVC Ultra, then Panasonic will have a hard time keeping the GH5 on it;s shelves.  We do hope to see Sensor Stabilization and 1080p at higher than 60fps on the camera once finalized. A higher frame rate would be a surprise but we are not holding our breath for that one.
Pricing info is not yet known but we expect under $2000 USD. It should ship sometime in Q2 2017.
We will keep you updated on this and other camera updates as always.  Thanks for reading and your support – HSC
Official Panasonic Press Release for the GH5 Below:
September 19, 2016
Panasonic Develops the World's First*1
4K 60p/50p Video Recording Digital Single Lens
Mirrorless Camera LUMIX GH5 Featuring '6K PHOTO'*2
Panasonic today announced that it has developed a new Digital Single Lens Mirrorless (DSLM) Camera LUMIX GH5 that is capable of recording smooth, high-precision 4K 60p/50p and faithful 4:2:2 10-bit 4K video*3 for the first time in the world*1.
It also features '6K PHOTO'*2 which extracts approx.18-megapixel still images from ultra high-quality video with approx. 9 times the pixel count of Full-HD. The new LUMIX GH5 is scheduled for commercialization and introduction to the global market in early 2017.
Panasonic has been committed to the development of innovative digital cameras under the theme "Create a new photo culture in the digital era." The world's first Digital Single Lens Mirrorless camera DMC-G1 was introduced in 2008*4 and the subsequent DMC-GH1 achieved the world's first Full HD video recording in 2009*5.
In 2014, Panasonic introduced the DMC-GH4, which realized 4K 30p/25p video recording for the first time in the industry*6. At the same time, Panasonic proposed a new and unique method of photography 'called 4K PHOTO' which allows users to capture fleeting photographic moments that even the eyes cannot catch in 4K resolution at 30 fps to save as high-quality photos.
As a result, the DMC-GH4 is highly acclaimed for its exceptional performance in both photography and videography by a wide range of professional users worldwide – not only photographers but also cinematographers in the film production field, as well as emerging photo/video-hybrid creators.
By advancing Panasonic technologies, such as digital signal processing and heat dissipation, and packing them into the compact, lightweight body of a Digital Single Lens Mirrorless camera, the LUMIX GH5 enables 4K 60p/50p and 4:2:2 10-bit 4K video recording*3, which has never before been achieved *1. With this unprecedented video recording performance, Panasonic aims to further capitalize on the strength that it has achieved in the film production industry.
In the LUMIX GH5, the conventional '4K PHOTO' function is dramatically advanced to form '6K PHOTO'*2 which lets the user cut a still image out of ultra high-quality 18-megapixel video with approx. 9 times the pixel count than Full-HD. Taking advantage of its high-speed, long-time burst shooting capability, spur-of-the-moment shots can be saved in beautiful photos with higher resolution that complies with larger-sized printing by substantially increasing the resolution from approx.8-megapixel (4K PHOTO) to approx.18-megapixel (6K PHOTO*2) Furthermore, approx.8-megapixel 4K PHOTO can be captured at 60 fps.
The LUMIX GH5 goes on show at Photokina 2016, which will be held at Koelnmesse, Germany, through 20-25 September in 2016, together with the new LEICA DG VARIO-ELMARIT F2.8-4.0 Lens Series. Achieving both high optical performance and a compact size, the LEICA DG VARIO-ELMARIT F2.8-4.0 Lens Series includes a new 12-60mm standard zoom lens, 8-18mm wide zoom lens and 50-200mm telephoto zoom lens that will be showcased as a reference exhibit at the Panasonic booth.
The latest information on LUMIX GH5 will be updated at the following web page:http://www.panasonic.com/global/consumer/lumix/gh5/
*1 For a Digital Single Lens Mirrorless camera, as of 19 September, 2016 (Panasonic survey).
*2 "6K PHOTO" is a high speed burst shooting function that cuts a still image out of a 4:3 or 3:2 video footage with 18-megapixel
(Approx.6000 x 3000 effective pixel count) that 6K image manages.
The name '6K PHOTO' is tentative.
*3 In 4K/30p, 25p, 24p, 23.98p video recording.
*4 For a Digital Interchangeable Lens System Camera, as of 12 September, 2008 (Panasonic survey).
*5 For a Digital Single Lens Mirrorless camera, as of 3 March, 2009 (Panasonic survey).
*6 For a Digital Single Lens Mirrorless camera, as of 7 February, 2014 (Panasonic survey).
•Leica is a registered trademark of Leica Microsystems IR GmbH.
•ELMARIT is a registered trademark of Leica Camera AG.
•Details of the product specifications, the date of release and the price are yet to be advised.
(Visited 12,507 times, 1 visits today)