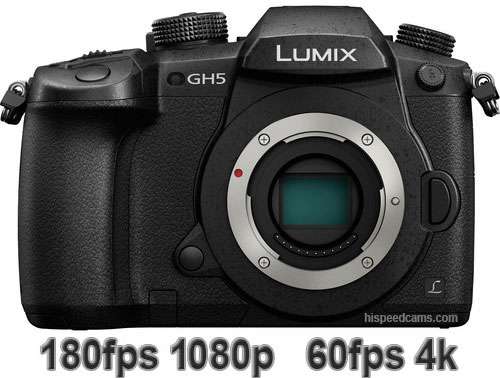 In what could be called a very tight circle of people in the know with no severe leaks until yesterday the Panasonic GH5 was a pretty well controlled launch.  No one was really sure about the maximum frame rate at 1080p until a couple of days back when some leaks in Asia started to circulate 180fps in FHD as the number and sure enough the final spec did just that.
The GH4 was and continues to be a camera of choice for many video enthusiasts and film-makers so it was a tall order to best the camera and force a loyal following to upgrade and continue the cycle of continued improvements and sales. The GH4 was a success for Panasonic's Lumix division more than any GH camera before it and they have listened to professional users and have made it even more of a powerhouse.
At $1999.00 body only it will not only cater to the camera enthusiast and professional videographer but also to a strong subset of pro-sumer customers that are debating to buy a more capable camera and want longevity in the feature set.
Panasonic GH5 Main Feature Set:
Newly Developed 20MP Four Thirds sensor
5-axis in-body image stabilization system with 'Dual IS 2' support
4K recording downsamples from full width of sensor. (No Crop)
Professional Internal 4K/30p/24p 10-bit 4:2:2 video capture
Overcrank 4K/59.94p and 50p shooting with 10-bit 4:2:2 output or 8-bit, 4:2:0 internal recording.
Full HD1080p video at up to 180fps Variable Frame rate.
6k Photo mode at 30fps "6000px x 3000px"
Stills 9 fps shooting with continuous autofocus
Improved Advanced Depth From Defocus AF (No Phase Pixels)
Dual UHS II SDXC card slots "Professional Duplication"
New Joystick with AF Selection
No Low Pass Filter on Sensor!
Wireless: 802.11ac Wi-Fi, NFC + Bluetooth
Rack Focus Mode For Perfect Shots
Professional Waveform and Vectorscope Video Monitors
Paid Upgrade to enable V-LogL with LUT-based Live Preview!
Improved Video Focusing Algorithms "Selectable"
Body Only $1999.00 USD
Looking at the Lumix GH5 specs you can be easily overwhelmed by the terminology and scope but there is a lot of technology that is refined / ported from previous Lumix test-bed models like the G series.
Panasonic LUMIX GH5 Product Overview by PanasonicLumix:
The Slow motion 180fps at full HD will work in the VFR mode allowing the user to select the desired frame rate in a scale much like the GH4. The quality on the GH4 at 96fps was more akin to a good 720p mode but hardly real 1080p full HD like we have seen in more recent cameras like the Samsung NX1 and Sony A6300 and a6500 series at 120fps.
As you can see from the VFR -Variable Frame Rate Mode above you can do in between frame rates if needed just like the GH4 VFR of old. There is at this time no 180fps video quality samples or any 1080p VFR above 60fps for us to post but we will post these when they become available.
We imagine the quality of 180fps on the Lumix GH5 will be below 60fps just like in the GH4's 96fps due to restrictions on bit rate.  7.5x slow motion in 1080p and 2.5x slow motion in 4k mode will be able to shoot continuously. Audio can be recorded on 4k 60fps but we are unsure if it will be recorded in 1080p at frame rates above 60fps just like the restriction on the GH4.  We will know for sure once production models get in the hands of users.
Crop? As for sensor crop in VFR mode for 1080p we have no information at this time. We estimate some kind of crop will happen to get 180fps from the sensor since as Panasonic says the sensor can only operate at 60fps in the full area mode. A severe crop might happen on the slow motion modes above 60fps which is not really optional due to sensor refresh rates.
Dual IS: is probably the most anticipated GH5 feature which first did a showing on the G series Lumix cameras last year. With in sensor stabilization you can expect 1.5 to 2 stops of camera shake reduction and with Dual IS 2 of anywhere from 4 to 6 stops depending on the lens used.   We will have to see which lenses of the current line and the newly announced lenses will perform better but in any case this feature opens the door for stabilized lenses of other mounts which is an excellent update in itself.
Introducing Panasonic LUMIX GH5 by Panasonic Lumix:
Planned Firmware Updates:
Just like the GH4, the newly announced Lumix GH5 is already launched with firmware updates in mind for the future with what could be a first for Panasonic of directly pointing to the expected feature set and cost.
April 2017 Update: 10-bit 4:2:2 1080p capture enabled.
Summer 2017 firmware update: DCI/UHD 4K 4:2:2 10-bit recording at 400Mbps, 1080/60p 4:2:2 10-bit recording at 200Mbps,  All-Intra compression recording. Anamorphic 4K video capture will also be enabled on this update for use with Anamprphic Glass. It seems the camera will use the full 6000px width of the 20MP sensor to extract Anamorphic so it's ideal.
V-Log L with Live LUT support "Sold Separately":
The software update at camera launch will be an unlocking key at the cost of $99 USD to enable V-Log L recording in 4k and 1080p which is a flat professional profile to grade later with the use of LUTs.  The improvement over the GH4 here is that the LUTs can be pre loaded in camera and applied for live view while recording so you can get a preview of the grade in real time. This is a very professional feature that few cameras and monitors allowed before and would cost a lot of money to obtain.
Suddenly the $99 USD charge sounds better when you add LUT support; however we would prefer for Panasonic to include this at no extra cost on the camera as a means to justify the $300 increase for the camera body at launch compared to the GH4. Still the GH5 is a major upgrade to the GH4 by using a completely new Sensor and Capture/Processing Venus engine.
Panasonic GH5 4K 60P Video "HAND-CUT" by Griffin Hammond:
New Sensor: If you look at the Ice documentary above by Griffin Hammond you can clearly see that even at 4k 60p 4:2:0 8 bit; the camera's Dynamic range and low noise are apparently clear. This is probably the best looking 4k video footage shot by a Micro 4/3rds camera in terms of detail, color and highlight retention. The new sensor alone is cause for upgrade for current GH3 or GH4 owners.  
Panasonic LUMIX GH5 Shooting Impression by Daniel Berehulak:
AF Performance: The video samples from Panasonic claim much improved Auto Focus algorithms for still images and continuous video tracking. The locking aspect of AF with a moving subject is reinforced and should allow for much better subject tracking and speed compared to previous Lumix bodies.
There is also a programmable Rack Focus mode in camera which is a highly requested feature for video professionals. You now have the ability to pre select an A and B point for the electronic Lumix lenses to change focus on.  It will be a matter of looking at samples to see how effective and or usable the mode is.   Rack focusing is one of our favorite new features and we hope it can be used in the Slow Motion VFR mode for added effect.
No OLPF in the GH5:
As you can see above the GH5 has an edge in detail to the GH4 by the elimination of the Low Pass Filter and also the slight increase in Megapixels.  The removal of the OLPF can create moire artifacts and aliasing in images; especially in video mode but we will have to wait and see if the 6k full sensor super-sampling is enough to counteract the sharper detail.
Panasonic GH5 Newsshooter interview: Everything you need to know about the latest 6K Lumix camera by Newsshooter:
First Look: Panasonic Lumix DMC-GH5 by B and H:
GH5 Launch Accessories: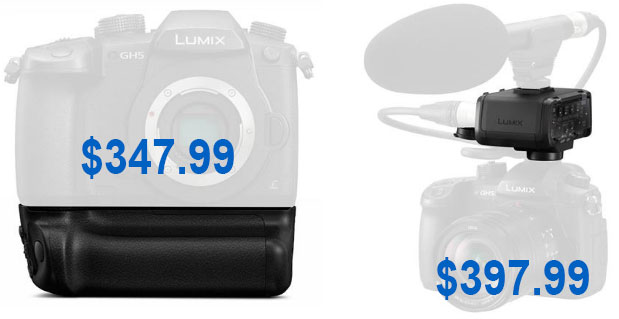 There are two accessories launched for Pre Order with the GH5.
Panasonic DMW-BGGH5 Battery Grip "Same GH4 Battery"
Ergonomic battery grip for Panasonic LUMIX GH5 mirrorless camera body.
Second shutter release for vertical shooting.
Battery compartment for extended 2 battery shooting (Additional batteries sold separately).
Protected from harsh weather conditions (Splashproof / Dustproof / -10C Freezeproof).
2. Panasonic DMW-XLR1 XLR Audio Expansion Unit for Audio capture with dual XLR inputs. 48 k or 96 kHz, Bit depth of 16 or 24 bit audio capture. Powered from the Flash shoe, no battery needed. $397.99
Battery: The 7.2V 1860mAh lithium-ion battery pack of the GH4 is unchanged which is great for GH4 owners and the environment.  The GH5 camera will last about 25% less on a charge than the GH4 due to higher power requirements if you are not using the battery grip which can extend battery life up to 2000 still shots; but the GH5 has a killer new feature for photographers.  The Lumix GH5 has a new "Power Save LVF" feature that can be toggled which puts the camera to sleep immediately after you remove your eye from the viewfinder.
What We Like:
There is no question the GH5 is a massive upgrade in quality and features to the GH4. The sheer amount of new features and improvements make the GH4 which is still a pretty remarkable camera; a little antiquated after that camera's March 2014 release.
For slow motion fans the 180fps VFR mode and 60fps 4k mode is quite an update and will make the GH5 last a few years in your arsenal as a do it all professional tool.  No other DSLR or mirrorless camera comes close at this moment to match the GH5 in specs for internal video recording.  The GH5 is matching professional video cameras in specs and exceeding some of them with the portability and stealth quality afforded by the m4/3 camera format.
We remain interested in what the VFR mode will look like and if it will suffer in detail like the GH4 at 96fps did a couple of years back.  We will not speculate and rather wait for realistic video samples before ranking the camera in our guide.
Pricing: Yes at $1999 is $300 more expensive than the GH4 at launch but with inflation taken into account, dwindling camera sales and all of the added features we respect Panasonic's pricing which allows for them to make a profit and continue to develop these cameras in the future.
There is a lot to like in the GH5 like the dual SD card slots, IBIS Sensor stabilization, new 20MP sensor with 1 full f-Stop of better low light and cleaner high ISO compared to the GH4. 4:2:2 Video recording at 8 or 10 bits in camera unheard of in portable DSLR style cameras. Rack focus and improved subject tracking, crystal clear viewfinder and improved touch screen. Firmware updates planned to add features for video; USB-C, Full size HDMI port + On and On…
What we don't like:
What could possibly be a negative with a camera as full featured as this one?
We find that charging for V-Log L is detrimental to the camera as it will severely limit the pool of users who will get to use the feature. If you don't want to support the feature for people who do not know how to best use it because of cost, then don't. If you want V-Log L support charge a $29.99 one time fee tied to the cameras serial number and be done with it if needed.  An extra $100 may not sound like much but for $200 you can get a 4k action camera these days.
240fps is more in tune to be class leading these days in VFR mode. 180fps is not class leading at 1080p when cameras like the Sony RX series can do it at near 1080p quality for 4 seconds. The GH5 will be able to shoot 180fps without time restrictions so that is a major plus especially if the quality is real 1080p and not up-sized 720p.
No more Pop Up Flash:  yes the GH4 still had a pop up flash and the GH5 does not. The reason is the better viewfinder but we wouldn't have opposed a slightly higher camera in order to have it included. The pop up flash helps photographers in need of one when you don't want to lug around a full flash unit.
Dual IS will not work with many lenses that are replaced today b y newer versions.  This makes these expensive lenses obsolete and will need replacing. It is a serious issue for people who have stockpiled Lumix Glass and will be left in the cold.  You still have in Lens IS which is not as good as competitors and or can use in body IS which is a consolation price of sorts.
Pricing and Availability:
The Panasonic Lumix GH5 will launch on March 30th, 2017 with a price tag of $1999.00 body only.
You can Pre Order the GH5 From Adorama Camera Below: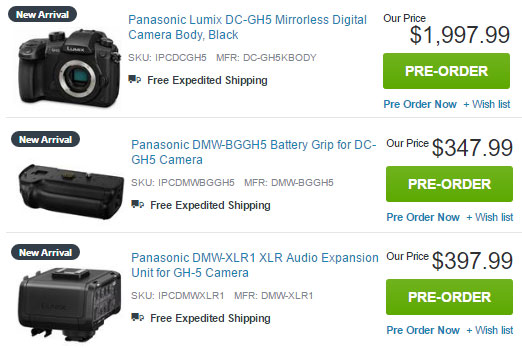 We will have more GH5 information including slow motion samples from the camera when they become available.
Thanks for reading -HSC


(Visited 26,826 times, 1 visits today)