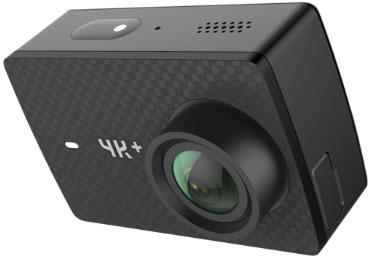 The Xiaomi Yi 4k+ Camera announced today at CES is revolutionary just barely by it's 4k 60fps spec which is ahead of all other action cameras in the market. However 1080p and 720p resolutions have not seen a bump in frame rates with the cameras still doing the same specs as last year's Yi 4k camera which is in turn the same spec as the GoPro Hero 4, 5 and Sony X3000 Action cameras.
The YI 4K+ uses the newest Amba H2 SOC, the first 14nm video processing/encoding SOC part which is quite fast and on the spec list fast enough for 120fps at 4k on AVCHD encode.  This pixel rate is fast enough for 240fps at full 1080p or  480fps at 720p without maxing the system.  Yi 4k+ however has remained conservative due to hardware limitations in other areas like imaging sensor and memory allocation to just 4k 60p recording.
YI 4K+ Main Specs:
Sony IMX377  1/2.3" 12MP Exmor R image sensor
7 glass element lens
Ambarella H2 chipset
Quad-core Cortex-A53 ARM processor
ATL 1400mAh battery
2.19" retain touch screen 640*360 res at 330PPI
4k UHD 60fps, 30fps Video Capture
1080p Video at up to 120fps
720p Video at up to 240fps
We isolated the resolutions supported by the camera above which show competitive lower resolution frame rates and class leading 4k 60fps modes. It would have been great to see new and improved frame rates in 1080p and 720p to get excited about but so far we can't really expect as much from this release.
The Yi 4k+ uses the exact same Sony Sensor SONY IMX377, 1/2.3″, 12 megapixels CMOS as last years Yi 4k version so don't expect improvements per pixel besides higher 4k frame rate and improved processing by the H2 Ambarella SOC compared to the Yi 4k Ambarella A9SE SOC. Electronic Image stabilization is the main improvement along with better audio clean up.
World first 4K 60FPS action Camera: YI 4K+ Action Camera by YI:
As you can see in the 4k 60p footage above the image quality and stabilization provided by the Yi system is pretty remarkable for such a small camera. We expect the GoPro Hero 5 successor or Sony Action Cam release to match this quality when released later this year.
The dynamic range looks to be quite good in a snow test like the demo above. Snowy landscapes are very easy to blow out and the camera is doing remarkably well in this test retaining detail in highlights as well as shadows.
The EIS or Electronic Image stabilization is doing some crop to the 4k image on the fly with the H2 Ambarella SOC which does offer pretty close stability to the X3000 Sony Action cam for instance. It is of note that the footage might have been shot with the Yi Gimbal product for added stabilization so until other demonstrations are available we will have to remain optimistic but subdued in out enthusiasm for the feature.
Other features: Live Video Streaming, Improved Outdoor Audio, 1/4 inch Tripod Mount Socket, VR Support!
YI 4K+ Action Camera Slow Motion Testing by Sami Luo:
The 720p 240fps sample above by Sami Luo Subscribe to his Youtube Channel Here! shows the quality you can expect from the Yi 4k+ camera. Looks like the same slow motion performance of the original Yi 4k so if you own one for high speed video, keep it!
Yi 4k+ Pricing and Availability:
While pricing and release date were not announced at CES the rumors say Q1 2017 and Anywhere from $249-$349 for the camera kit. Out safe bet will be $299.99 to be competitive and aggressive to other action camera options.
More information about the Yi 4k+ Camera here: https://www.yitechnology.com/actioncamera/specs/id/11
YI 4K+ Action Camera Raw Footage 4K/60FPS by Sami Luo:
Should I get a Yi 4k or wait for the Yi 4k+?
If you need a camera now the Yi 4k of last year is an excellent choice for $199 USD. However the quality increase in the footage we saw on the Yi 4k+ is quantifiable which means if you strive for better compression quality the Yi 4k+ with the Ambarella H2 SOC chip does offer better processing and detail retention with less macro blocking.
The Quality at 60p 4k is so good that you can easily inter-cut it with pricier camera footage for sports shows.  The camera uses the same Sony IMX377, 1/2.3″, 12 megapixels CMOS image sensor as the Yi 4k so if you own one and can live without 4k at 60fps it can be easily skipped as an upgrade.
YI 4K+ Raw Footage 4K/60FPS Low Light Testing by Sami Luo:
However if you were debating to get a new action camera to replace an older model like a Hero 3 or Sony Action Cam X1000 then the Yi 4k+ is an excellent choice that can be used with any standard Tripod 1/4 mount along with adapted shoes for action camera standard mounting gear.
We will have more information and slow motion samples as they become available.
The best part about a new camera release is that the older camera is on sale and you can see some of those deals for the Yi 4k below. And remember they use the same sensor and are pretty close besides some features like the 4k 60fps spec and improved Image stabilization.


(Visited 2,192 times, 1 visits today)