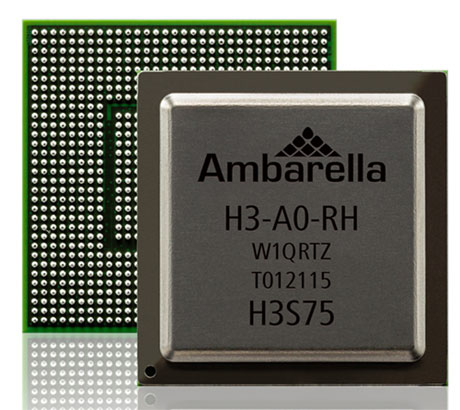 Ambarella has introduced two new SoC chipsets for portable electronics that shoot video.  The H3 capable of up to 8k video or dual 4k 60fps streams for 360º VR video and also the H22 which is a souped up version of the H2 found on cameras like the Yi 4k+ that will be shooting 4k 60p and up to 120fps 1080p video.
No real leads were given into what specific cameras will be incorporating the new chipset but from indications of past releases it is safe to say that the best action cameras, some high end phones and drone centric cameras will be sporting this new SoC in their specs by the end of this year.  If we had to bet we will probably see a Hero 5+ using the H22 before the H3 as 8k video seems a huge jump for a refresh model.
Ambarella H3 Main Specs:
8K Ultra HD H.264/AVC video at 30 frames per second
Support for 360-degree cameras with dual 4KP60 video capture
Electronic Image Stabilization (EIS)
Advanced oversampling routines
powerful multi-channel ISP for 360 degree video capture and multi-sensor drone applications
quad-core ARM® Cortex®-A53 CPU with floating point and NEON™
H3's hardware de-warping engine
10-bit HEVC High Dynamic Range (HDR)
It is clear Ambarella aims to maintain it's dominance in the high end performance portable segment with VR 4k dual 60fps streams for real time Virtual Reality capture on dual lens and dual sensor design cameras. Expect tos ee a lot more high quality 4k VR panoramic video once the H3 is used on action cameras.
For 8k 30p it aims to be an initial solution for 8k TV content which seems like overkill at this juncture especially with the low adoption of 4k content in programming. 8k seems more of a specialized format for post production at this point.  Drone operators will love 8k to be able to crop and or stabilize footage for delivery in 4k masters.
As to 1080p performance we expect the H3 to be geared mostly at 4k but it would be great to see it incorporated in action cameras to some degree. with this performance it would be possible to achieve 240fps Full HD 1080p streams and up to 480fps 720p streams without breaking a sweat. We can only hope!
H3 Press Release Below:
Ambarella H3 SoC delivers 8K Ultra HD at 30 frames per second and 4K Ultra HD at 120 frames per second

SANTA CLARA, Calif., January 5, 2017 — Ambarella, Inc. (NASDAQ: AMBA), a leading developer of low-power, HD and Ultra HD video processing semiconductors, today introduced the H3 System-on-Chip (SoC) for high-end drones and a new generation of video cameras, including 360-degree and virtual reality cameras. The H3 video SoC enables 8K Ultra HD H.264/AVC video at 30 frames per second, as well as multiple video streams with equivalent performance, including 360-degree cameras with dual 4KP60 sensor video capture.

8K videos played on large 8K displays provide a better viewing experience to the end user, as pixels at this resolution are indistinguishable to the human eye at any reasonable distance. The combination of 8K video capture together with Ambarella's advanced oversampling and image stabilization also enables higher video quality 4K video recording.

"With the introduction of H3 we believe we provide the highest video performance and best image quality solution for high-end drones and multi-sensor video cameras," said Fermi Wang, president and CEO of Ambarella. "H3 delivers 8Kp30 video performance to match the next generation of displays, such as 8K televisions and high resolution head-mounted displays."

H3 includes a powerful multi-channel ISP for 360 degree video capture and multi-sensor drone applications. Its 10-bit HEVC High Dynamic Range (HDR) video processing handles high contrast and wide color range scenes. It also features Ambarella's advanced Electronic Image Stabilization (EIS), capable of generating a smooth 4Kp60 video output under challenging conditions, including during high winds and with high degrees of rotation. The integration of a quad-core ARM® Cortex®-A53 CPU with floating point and NEON™ provides significant processing power for customer applications including computer vision, wireless networking, and multi-sensor stitching algorithms. The H3's hardware de-warping engine supports wide-angle panoramic camera designs and fish-eye lenses.

Ambarella will demonstrate the new H3 SoC at a private, invitation-only event held during the Consumer Electronics Show (CES) in Las Vegas, January 5 – 8, 2017.

For pricing and availability, please contact Ambarella at www.ambarella.com/about/contact/inquiries

Ambarella H22 Main Specs:
4K Ultra HD video at 60 frames per second using the H.265 (HEVC) or H.264 (AVC) video formats
Electronic Image Stabilization (EIS) up to 4K resolution
1.2 GHz Quad-Core ARM® Cortex®-A53 CPU
Video VR stitching and wireless networking
Drone Flight Control Processing, Real Time Video Feed and simultaneous 4k footage encoding.
14nm process technology
Low power consumption even in 4k
Aimed at:  drones and sports cameras with outstanding video quality and extended battery life.
ability to encode at high frame rates, including 4Kp60 and 1080p120, delivers smooth slow motion, high definition video
It is clear the H22 is a low power answer to Drones and Action cameras that is powerful enough to process flight data while at the same time encode full 4k 60p video streams with the added benefit of creating a separate 1080p real time stream for wireless transmission for drone pilots.  This is quite a capable chip.
Sadly for slow motion fans the 1080p 120fps limit imposed means that performance wise; it will be the same as the Current H2 SoC found in the Yi 4k+.  The H22 seems like a slightly better and more capable version of the H2 SoC but aimed at drone makers like the GoPro Karma and or DJI Mavic Pro.   The power savings alone will help it be the ideal chip for small action cameras like the GoPro Hero 5+ or 6 and the Xiaomi Yi 4k+ replacement by the end of the year.  Ambarella continues to provide dominant parts to the low cost but high quality / high performance portable video market.
H22 Press Release Below:
New 14nm SoC delivers 4Kp60 Ultra HD video, 4K Image Stabilization, and 4K High Dynamic Range (HDR) processing with very low power

SANTA CLARA, Calif., January 5, 2017 — Ambarella, Inc. (NASDAQ: AMBA), a leading developer of low-power, HD and Ultra HD video processing semiconductors, today introduced the H22 System-on-Chip (SoC) targeting a new generation of 4K drones and sports cameras with leading-edge video features.

The new H22 SoC is capable of encoding 4K Ultra HD video at 60 frames per second using the H.265 (HEVC) or H.264 (AVC) video formats, and supports advanced Electronic Image Stabilization (EIS) up to 4K resolution. The on-board 1.2 GHz Quad-Core ARM® Cortex®-A53 CPU provides significant processing power for customer applications including flying camera flight control, advanced analytics, video stitching and wireless networking. Fabricated in 14nm process technology, the H22 offers very low power consumption, enabling 4K cameras with small form factors and extended battery life.

"The H22 brings 4Kp60 Ultra HD video at extremely low power into the mainstream," said Chris Day, VP of marketing and business development at Ambarella. "With 4K HDR, 4K EIS, and a quad-core CPU, the H22 enables a new generation of drones and sports cameras with outstanding video quality and extended battery life."

The H22 includes a highly optimized image processing pipeline with excellent imaging and advanced noise reduction, and a hardware de-warp engine to support wide-angle panoramic designs with minimal distortion. The device's 4K EIS can augment or potentially eliminate the need for a mechanical gimbal in a drone. The ability to encode at high frame rates, including 4Kp60 and 1080p120, delivers smooth slow motion, high definition video even during fast action shots.

A typical use case for the H22 in a drone might be to simultaneously encode 4K Ultra HD video, stabilize it in real time using EIS, and execute flight control algorithms using input from an array of sensors including an optical flow sensor. Additionally, a second, low-delay, Full-HD live video stream may be processed, encoded and wirelessly transmitted to the pilot for monitoring and camera control.

Ambarella will demonstrate the new H22 device at a private, invitation only event held during the Consumer Electronics Show (CES) in Las Vegas, January 5 – 8, 2017.

For pricing and availability, please contact Ambarella at www.ambarella.com/about/contact/inquiries
(Visited 1,768 times, 1 visits today)