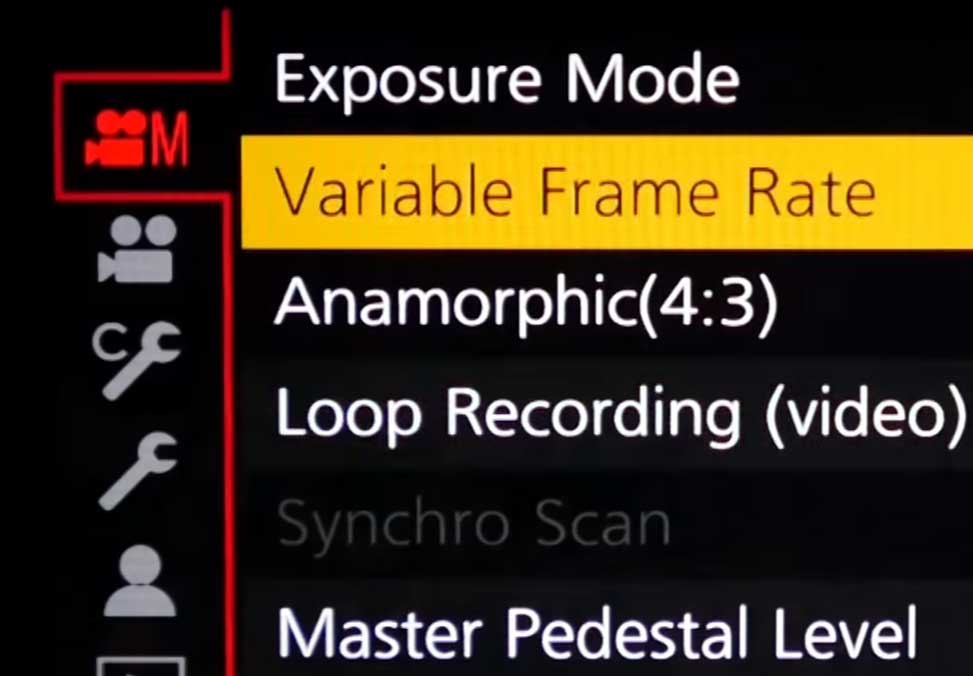 Seems like the GH5 introduction has really made a splash on the web, TV tech news media and in enthusiast circles. The spec sheet alone is the most advanced of any DSLR or Mirror-less camera to date concerning the acquisition of professional video.  There is however one setting that does interest us more than any other and that is the  180fps VFR mode on 1080p resolution.
Slow motion samples are very hard to come by on this pre production camera for what seems to be an unofficial lock on that feature with testers according to some rumors. However we have learned that the feature is not locked and it is available to everyone on the test units but it requires UHS II U3 SDXC cards which many users simply did not have available.
One tester however was able to record a slightly lower frame rate at 150fps. The quality looks good but it would be premature to declare this true 1080p unless we could compare both VFR mode vs 1080p mode on the same exact scene to be able to objectively compare video recording quality.
Update Jan 10th, 2017: New Panasonic GH5 180fps Slowmo Video Here – quality is improved over GH4!
The first of the videos is by digiDIRECT and shows the Lumix GH5 camera at 150fps full HD 1080p at the 10 minute mark along witha  pretty comprehensive preview see below:
Panasonic GH5 – Hands-on First Look & Sample Footage by digiDIRECT:
The next Video shows the GH5 shooting at night with a lamp post in the middle of the frame. Nick Driftwood the film maker responsible for several great GH2 hack video profiles, tests the camera video mode from ISO 200 to ISO 12,800 to show the noise handling. Up to ISO 3200 the camera is outstanding in low light with very unobtrusive grain.  If you add Noise Reduction in post later you get even cleaner results without much trouble.
2) Lumix GH5 – ISO 200 to 12800 Test by Nick Driftwood:
The Next Video shows the GH5 menu system and the Vector Scope and Waveform Monitor in action.
3) GH5 Menu Run Thru Video by Talking Pictures by DCW:
The next video by Nick Driftwood as well shows the GH5 camera shooting people in run and gun style at full 24p 4k settings Rec709L Color Profile. The video shows the camera performance on a very real world test scenario which can help you see the strengths and weaknesses of the image.
4) Panasonic Lumix GH5 'Notting Hill People' early version fw 0.3 Rec709L Profile 24p 4K byNick Driftwood:
The following video shows Hugh Brownstone on a different take towards the GH5 camera and one that could have profound implications for price/performance going forward for all camera manufacturers.
5) Panasonic GH5: The ONE big thing by Three Blind Men and An Elephant Productions:
The Sixth video shows no Panasonic GH5 but it does provide the take from a Sony Mirror-less camera user on what the GH5 represents and how it can affect other brand products going forward.
6) Panasonic GH5 (Thoughts from a Sony Mirrorless Shooter) by that1cameraguy:
On the 7th spot we have a CES floor interview with the Panasonic GH5 Marketing guru Sean Robinson who has some very cool lens design tattoos on his arms to show his camera affinity. He goes over the camera features, shooting and other interesting questions.
7) Panasonic GH5, 45min Interview with Panasonic Marketing Specialist Sean Robinson by Charbax:
On the 8th spot we have a pretty special video that has a link to download 5 sample clips from the GH5 so you can try them out in your editor. The clips are in V-Log L so you can apply a LUT in post to see how the camera will be able to grade the footage.  The samples show an extremely good color response and low noise associated with much more expensive gear. We recommend that you edit the footage on a modern Mac or PC to avoid slow downs. We used Adobe After Effects CC to color grade and edit the footage.   Thanks to Neumannfilms for providing such great footage to the video enthusiast community so early on.
8) Panasonic Lumix GH5: Downloadable Footage by Neumannfilms:
On the next video, Lok from Digital Rev TV fame has gotten his hands on a GH5 at CES and expresses his admiration for the camera and what it means for video shooting. We have a feeling this will be Lok's favorite camera for a long time.
9) Panasonic GH5 – Lok gets his hands on it at CES 2017 by Lok from Photogearnews:
Last but not least we have Steven Clarey's great Japan footage shot with the Lumix GH5. Some breathtaking shots and real world recordings that will show you the qualities of the image from this camera.
10) Panasonic Lumix GH5 4K 50/60p Test Footage – Japan (Pre Production Model) by Steven Clarey:
That is all for now, visit the creators of these videos and subscribe to their channels so you allow them to continue to shoot and contribute footage to the world.
As far as slow motion samples besides the first video in this post; we will have to make a different post just focused on the 180fps slow motion mode on the GH5 once the footage becomes widely available.  By then we will be able to rate and see how good the VFR 1080p mode is and what ranking spot will it deserve on or Camera Guide.  Thanks for your interest – HSC!
The GH5 can be pre-ordered below for a late March Delivery from Amazon.com:


(Visited 1,199 times, 1 visits today)