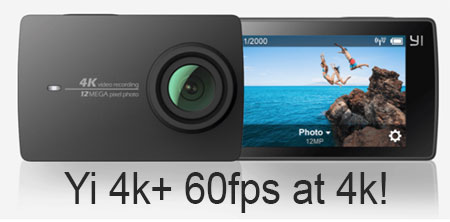 The Xiaomi Yi 4k Action camera was one of the biggest breakthroughs in quality over price when it came to action camera clones. It is literally a direct GoPro Hero 4,5 and Sony Action Cam rival with very close specs and performance but with a price tag of $199 it really is in a category all by itself.
The current Yi 4k camera is no slouch in the specs department but recently leaked information shows that the Yi 4k+ will have at least twice the processing power for 4k video and some hint at even faster frame rates.
4K UHD and 2.5K Video at 30 fps
1080p up to 120 fps / 720p up to 240 fps
12MP Photos with 30 fps Bust Mode
Ultra-Wide-Angle Glass Lens
Yi 4k+ Action Camera Rumored Specs:
4K UHD at 60 fps (Action Camera First)
1080p up to ??? fps / 720p up to ??? fps
Ultra-Wide-Angle Glass Lens
With that kind of processing power it is not out of the question that 2.7k could reach as high as 120fps and 1080p at 240fps.  720p however will likely be a spec of the past with little support but if they could, the Yi 4+ could really push the envelope here at 480fps which would put it in a class apart. We estimate the pricing will be around $299 to differentiate it from the current Yi 4k action camera. But still well below the GoPro and Sony Action Cam.
YI 4K Action Cam: break bottle slow motion by Sami Luo:
The Chinese have proven the world time and time again that their designs can not only go neck and neck with the best the competition has to offer but also dominate like in the case of Drone Maker DJI which owns the innovation space for low cost UAVs. GoPro is in a sales slump and Sony is pricing their product high.  The humble Yi camera may turn out to be the leader of the space by the end of 2017 if the other big players do not innovate faster.  In an increasingly shrinking sales market for action cameras that is!
Xiaomi Yi 4K vs. GOPRO HERO 4 • 1080p 120fps by Play Watch:
There is a lot of camera gear being announced at CES early next year and at CP+ in February so stay tuned we will try to cover the high speed part in all required detail.
(Visited 1,242 times, 1 visits today)