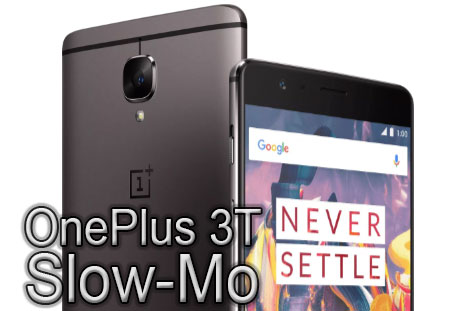 The OnePlus 3T is a phone that is really a near clone of the OnePlus 3 but with the Qualcomm Snapdragon 821 / Quad-core Kyro CPU vs the Snapdragon 820 on the previous one. The main improvement is that the 821 chip is able to run at full speed without overheating the phone and force a throttle down.   Another improvement is a 3400mAh battery instead of 3000mAh on its older brother.
For slow motion however the camera should be the near the performance as camera improvements are "Intelligent Pixel Technology" which reduces noise in low light, New Saphire coated lens with slightly enhanced electronic image stabilization. The front selfie camera however offers 16MP on the 3T vs the 8MP of the  OnePlus 3 which should yield much more detail for these types of captures.
The OnePlus 3T Phone offers 720p 120fps slow motion as it's highest frame rates and we were able to find a few examples that do show the phone as a good rival in detail to the best 120fps phones out there even with it's limited frame size.  The real low point of this phone it's the complete omission of 240fps as a spec to compete favorably with the iPhone and Google phones. It does have however 60fps at 1080p which is useful but under spec compared to the highest end flagships out there.
OnePlus 3T Slow Motion sample videos:
OnePlus 3T Slow Motion Camera Video Test (Dirt Biking) by NJTechnoGamer:
One plus 3t slow motion Fireplace by Antoniolli Andrea:
One Plus 3t. Slow Motion Feature, by: myproject13
OnePlus 3T slow motion Vertical Fire by Vishal Sonawane:
Google Pixel XL vs OnePlus 3T Camera Slow Motion Video Test @ 120 fps by Gupta Information Systems:
There you have it, the phone has pretty good quality 720p slow motion. However you should note that it has a tendency to focus hunt if the subject is too close. It may be able to focus lock with software or by stepping back a bit. This is not uncommon and many phones do this.  As a slow motion only phone we recommend either the iPhone 6s, iPhone 7 or Google Pixel and Pixel XL phones insteaad which are listed in our best of 2016 list.
One extra video from Will it Mow using the Chronos 1.4 High speed camera by David Kronstein:
Will it mow? Christmas by Will it Mow? Channel!
(Visited 8,153 times, 1 visits today)