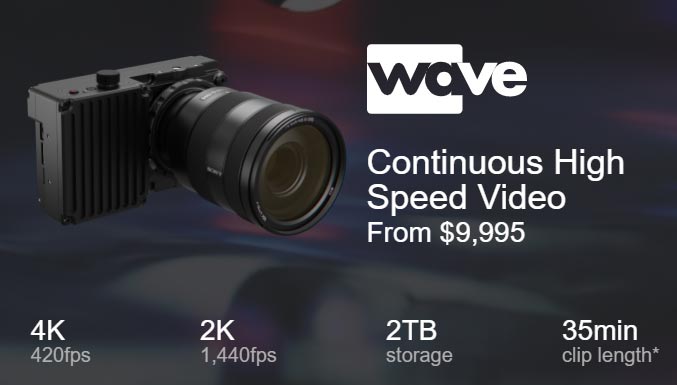 The Freefly systems Wave camera has been released and it is certainly a market disruptor. It is not your average high speed camera since it is essentially using an internal SSD M.2 card to continuously record slow motion events it functions more as a live capture device than a shot by shot trigger traditional slow motion camera. This is essentially the idea behind the fps1000 camera line by Graham Rowan which sadly was dissolved last year. A new way of capturing high speed by leveraging the speed of SSD flash storage with ultra-high frame rates.
The Wave is no slouch in specs with a 4k spec of 420fps which is not as good as the Phantom Flex 4k which records 1000fps but costs a whopping 160k USD.  The Wave costs $9,995 and using an E-Mount with no power or AF functions, can be adapted to a variety of lens systems because of the plethora of adapters that can be used due to the short flange distance.  We take a look at the wave specs and why it may be the camera you were waiting for – if you can get one!
Wave Camera 4k Slow Motion Specs:
Continuous Capture Time:
4096 x 2176, 422fps, 1TB

19min

4096 x 2176, 422fps, 2TB

39min

2048 x 1088, 1461fps, 1TB

23min

2048 x 188, 1461fps, 2TB

45min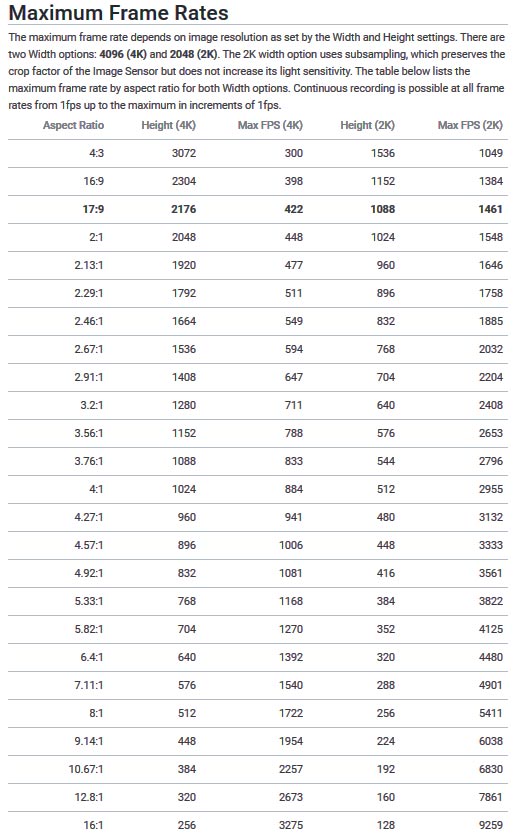 The camera uses a 4:3 aspect ratio from the sensor which is kind of odd but allows for a variety of frame sizes including anamorphic capture if stretch in post. This seems to be an ideal camera for Anamorphic slow motion.  Of note is that the Krontech Chronos 2.1 HD is also using a 4:3 sensor which in theory can be used with Anamorphic glass.
— Image Sensor —
Format –

S35

Aspect Ratio

4:3

Pixel Size

5.5μm x 5.5μm

Native Resolution

4096 x 3072

Active Area

22.53mm x 16.90mm

Shutter Type

Global Electronic

Native ISO

250
— Lens Mount —
Standard Lens Mount –

E-mount

Removable –

Yes

Positive Locking –

Yes

Electronic –

No
— Recording —
Media

Internal SSD

Media Size –

1TB or 2TB

Format –

Compressed Bayer RAW

Native Bit Depth –

10-bit

Compression Ratio

Typical –

5:1 to 6:1
A plethora of resolutions and frame rates:
The frame rates at 4k max out at 422fps which is pretty good but not quite Phantom Flex 4k good, a camera that costs 16x more.  The Wave is compact and seems to be geared to be used with Freefly systems Movi stabilizers and drone products to be apart of their ecosystem for full remote operation.  The key here is that it can record for up to 45 minutes depending on the resolution which is ideal for drone operators that simply can't start and stop recording then save clips while losing precious power on a flying drone.
The Wave battery can last 90min on standby and 60 minutes on full settings of max resolution and frame rate, more than adequate. You have the option to get the 1TB version and the 2TB for added recording time. In theory, when SSD volumes increase, the recording time should be amplified accordingly allowing for hours of 4k capture.
Of note is that the Wave uses a system of capture similar to that of the now-defunct fps1000 camera system by Graham Rowan which sadly never made it to market in sufficient quantities.  Seems the idea worked after all and this may be the future of all slow motion devices as it allows for unrestricted recording to SSDs without the need to start and stop and missing shots while the camera is writing a clip. Workflow wise this is a time saver for studios.
We wish the Wave had a 1000fps 4k mode even in more compressed quality since that is the key frame rate where the magic starts to happen in slow motion.  Maybe it will be released in a future update, we can only hope!
Video Quality Samples:
Chris Vanderschaaf the slow motion cameraman that hinted at the wave on our previous post, has posted a walkthrough of the shooting and workflow of using the Wave as well as excellent image quality samples that can be downloaded at a link at the footage page here.  We encourage you to follow Chris Vanderschaaf's Channel Here for updates on the Wave and his work.
The first video is the video samples which look excellent!
Freefly WAVE Camera | Slowmo footage & download by chris vanderschaaf:
The second video is the workflow of working with the Wave camera:
REEFLY WAVE Camera | how to shoot 1440 fps workflow by chris vanderschaaf:
Since the camera has no built screen you will need to attach a video monitor into the HDMI port. Not a deal-breaker by any means but not close to the convenience of cameras like the Chronos 1.4 and 2.1HD.
Notice the Jog dial controller used by the Wave, kind of an Homage to the Chronos 1.4c, and 2.1HD which share this feature.
Wave Image Quality:
The samples look excellent but we wanted to see close up what we were dealing with and thankfully Chris Vanderschaaf had some available.  Please note that this is early in the imaging optimization for the Wave and Image Quality should only improve from here.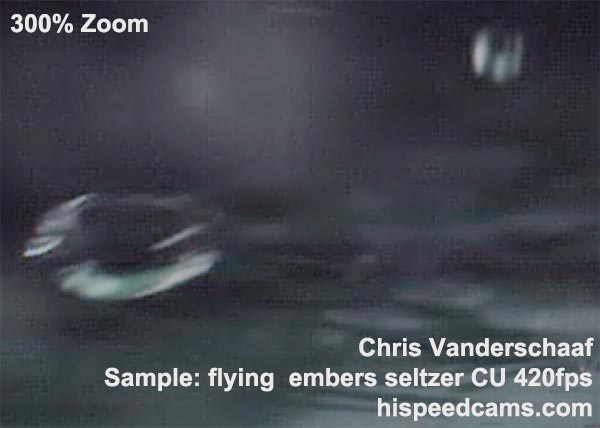 Of note is that the image has low noise compared to other smaller sensor cameras but it suffers from what we could only describe as Braile Dot pattern noise. It seems to be a dancing artifact that shows up in the frame.  It could be caused by less than optimal RAW conversion or the RAW compression algorithm.  The good news is that using noise reduction software, we were able to completely remove it with Neat Video v4 since the artifact is not static but in continuous motion.  The artifact did not appear on 2k footage, only in 4k 422fps which may be related to that size of frame only. Noise was moderate to low on 2k and well-lit scenes, pretty much what you would expect on a sensor this size. We expect Freefly to improve the quality of the output as the camera gets to ship date.
Dynamic range is about 11 stops which is common for Global Shutter CMOS Sensors, you loose dynamic range as a trade-off for full-frame speed capture. It is still a very usable 11 stops.
All in all it seems to be a really good image quality that could only improve from here, and it will be a candidate for camera of the year as we get to do our recount of the best gear of 2020.
Limited Production Run:
The camera seems to be on a limited production run which seems to be a way to get introduced to the market as it is Freefly's first camera product. They do not want inventory build-up that could make it a less than an ideal proposition.  The Price of entry at $9,995 for the 1TB Model (HINT: Go to Chris Vanderschaaf channel for  a 2TB deal for the price of 1TB) 
The Limited Production Run is shown below:
Batch 1
20 Units (sold out)
Shipping starts 11/18/2020
Batch 2
30 Units
Shipping starts 12/1/2020
Batch 3
50 units
Shipping starts 2/15/2021
So it seems an initial 100 camera units will be constructed which makes it a type of collector's item. Up to 5-10 units will be saved for the rental market according to Freefly and there is no information of more cameras being built at this time. We expect that if the camera is a success, it will probably usher new production batches for those that need it.
For more information on the Wave camera please visit the official site here: Freefly Wave Slow Motion Camera!
Thank you for reading and let us know what you think of the Wave Camera Below, we believe it will be a great addition to the affordable slow motion market as it ushers 4k slow motion at a nearly affordable price range in a compact portable form factor that could be just what the doctor ordered for upping your video capture game.
We hope to have a Wave for review at some point in the future, in the meantime, Stay Safe out there -HSC
(Visited 724 times, 1 visits today)