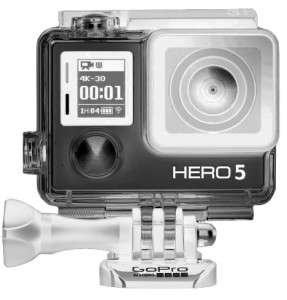 The GoPro Hero 4 series has been quite successful for the company and many are thinking what can they offer next when it comes to camera specs.  The Hero 4 Session showed that miniaturization and form factor change is possible at GoPro and we will not be surprised to see a change in shape and size on the Hero 5 to reduce it's footprint.   The GoPro mount has also been holding back the platform miniaturization as to remain compatible with accessories and grips of all kinds.  What could happen is to remain compatible but introduce a stronger and smaller mount with some sort of adapter for backward compatibility. This transition will open the way for more portable and stealthy cameras.
Our biggest hint of where the platform is going is what the new Ambarella H1 chip provides.  It is an evolutionary chip-set with a few features geared to UHD recording which suggest that 4k will be the focus going forward.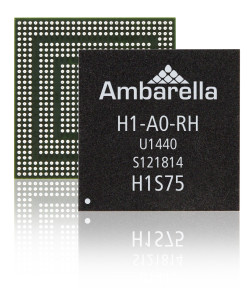 Ambarella H1 Feature Summary:
H.264 (AVC) Baseline/Main/High Profile Level 5.2 encoding up to 4K Ultra HD resolution at 60 frames per second.
H.265 (HEVC) Main Profile encoding up to 4Kp30 video.
Next-generation Image Sensor Pipeline (ISP) with 4Kp30 high ISO processing for excellent low-­light imaging.
Sensor capture rate of up to 2 Gigapixels per second with high‐speed SLVS-EC/SLVS/MIPI®/HiSPi™ interfaces supporting up to 64-­Megapixel (MP) sensor resolution.
Line‐interleaved multi‐exposure High Dynamic Range (HDR) processing.
Real-­time hardware-­accelerated de‐warping for 360-­degree panoramic lenses.
Enhanced Electronic Image Stabilization (EIS) with rolling shutter correction.
1.2 GHz dual‐core ARM® Cortex®-­A9 CPU with floating point, NEON™ and 1 MByte full-speed L2 cache.
Rich set of SoC interfaces includes support for DDR3/DDR3L/LPDDR2, USB 2.0 host and device, HDMI® 2.0 with 4Kp60 support, SDXC SD™ card, and dual sensor interfaces.
USB host for 4G/LTE module connectivity.
Low‐power 28nm process technology.
The chip specs suggest a marriage of previous Ambarella chipsets with a new focus on 4k video with an interesting DE-Warping 360degree feature. This should correct for the distortion caused by the extreme field of view of the wide modes on GoPro cameras. If the chip can correct for it on the fly before encoding it would preserve more detail and offer more natural wide views.
GoPro CEO Nick Woodman Hints at a GoPro Drone and the Future:
There is of course the Drone revolution that companies like DJI with their Phantom line have capitalized handsomely on and GoPro wants a piece of that pie.  Their cameras used to be #1 among drone enthusiasts until DJI started bundling their own cameras and now even have released a RAW version for drone pros.   The stabilization via electronics would help in the drone department and should make it a choice again with drone enthusiasts. However we feel that GoPro will try to push their own drone above individual camera sales in order to become a leader in the space.  It will be an uphill climb battle as DJI is really ahead of most competitors when it comes to features.
The Slow Motion Angle:
In addition to 4K Ultra HD encoding at 60p which is no slouch spec for a camera this size; the H1 Chip also supports :
1440p (QHD) video at 120 frames per second
1080p video at 240 frames per second, for smooth slow‐motion playback.
It seems the high speed frame rates will be phenomenal if implemented in the new GoPro Hero 5 Black.  We get 2560px * 1440px at 120fps which is 400% more pixels than 720p resolution. While this standard was bypassed by 4k UHD video it will give great results when stabilized or reduced to 1080p resolution as it maintains the 16*9 aspect ratio.
For 1080p getting 240fps in full HD will be a welcome development as up to now the frame rate was capped at 720p.  As for the 720p video standard we have no real information as the H1 spec does not talk about it but if implemented could yield 320fps, 384fps, 448fps or 480fps as the bandwidth suggests the possibility.
There is a possibility the GoPro Hero 5 Black will not support all of the chip specs as it is probably headed to a smaller form factor which means a smaller battery most of the time. There is no telling until the release comes by. However the Hero 4 Black supported all of the A9 chips features when it came to high frame rates after a firmware update a few months after release.
Release Date for Hero 5:
GoPro, Inc. has announced it is pushing back the original fall launch date for its upcoming GoPro Hero 5 to Q1 or early Q2 –  2016.  This is directly from GoPro so you can expect a camera release by that time.  As to what kind of models or pricing it remains a mystery but we expect a Hero 5 Silver and Hero 5 Black to make a debut.
We will cover the information on the Hero 5 line as we approach the release date; Thanks for your support of HSC!
(Visited 4,952 times, 1 visits today)