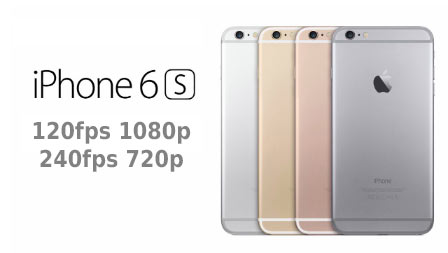 Now that a couple of weeks have passed it is clear that the camera in the new iPhone 6s is better than the previous model in every single way.  It has 12MP instead of 8MP, it has UHD 4k recording in video and has 120fps 1080p slowmo which is up from 720p.   The dynamic range is on par with the previous model but with the added feature of less noise and artifacts due to new in sensor technology and software processing.  While most users will not notice much in the way of improvements; they are there and especially if you look at the video mode the new iPhone is a fantastic upgrade from the regular 6 model.
The 120fps 1080p mode is very good and the detail is retained as long as there is not a lot of minute detail and extreme numbers of objects/changes in the scene. It is not as good as regular 1080p but it is close as there is not a lot of detail loss especially when using Macro mode.  If you want it to shoot a single water drop it should do great but if you are recording assorted splashes the codec will break apart and macro-blocks will start to invade your scene. It works very well for people and large scene objects and a lot of detail is preserved.  The 240fps mode is also improved in the artifacts and noise which means the processing is improved as you can see much less aliasing and moire.  It is still not true 720p but it is very close.  As of now we think the iPhone 6s has better slow motion quality than the GoPro Hero 4 Black and the Sony Action Cam Sony FDR-X1000V .   It is the best slowmo phone available in quantity as of today.  The New Nexus 6P has 720p 240fps to compete with the iPhone but no realistic samples besides the Hummingbird Video which is still unconfirmed exist.   This will change in the near future when users get their hands on it.
The videos below should give you a clear indication of why the iPhone 6s Slow Motion is improved and the one to beat in the mobile space as-well as show where the codec just can't keep up. "The YouTube quality does restrict the bitrate but the codec is confirmed to break in the source files also.
iPhone 6s SlowMo Video 1080P 120FPS Cardistry by Jaspas Deck:
iPhone 6s slow motion (1080p 120 fps) by TuRkYQTR:
iPhone 6S SlowMo Video Water Fountain test by Review Galore:
Rustler VXL iPhone 6s Plus Slow Motion by Alex LEX:
iPhone 6s slow motion BEES at 240fps 720hd by firswood:
iPhone 6s Slow Motion Video Test Samples (240FPS) by NeverBeUnseen:
iPhone 6S Slow Motion 240fps by Lubashky Dutsolov:
iPhone 6s Plus 4K & Slo-Mo ([email protected]) by Royce Adkins:
(Visited 5,111 times, 1 visits today)