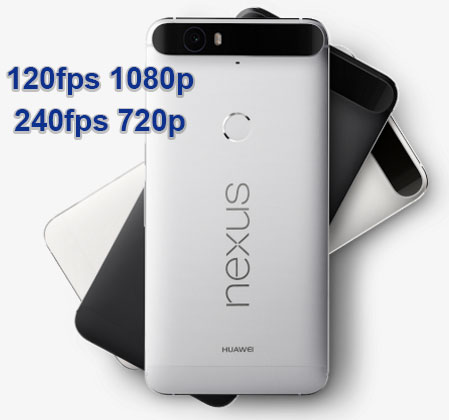 The Nexus 6P has had a rough start due to it's somewhat lackluster build quality that buckled on the bend tests against the improved iPhone 6s which fixed that problem that appeared on the iPhone 6. However that does not detract from the fact that the Nexus 6P is a serious powerhouse of specs and camera performance which brings true competition at 120fps and 240fps quality against the iPhone hegemony.
The compression has been improved and the scaling is actually pretty good generating fewer artifacts than ever before on an Android Phone slow motion mode.  While there is a bit of Moire and aliasing in the images especially at 240fps, it is in line to what the iPhone 6s delivers.  That is why we ranked them side by side on our best slow motion cameras of 2015.
We found a few videos we would like to share showing what the Nexus 6P can do within the slow motion spec that might make your purchase easier when compared to other options. We have been contacted several times with the question of the iPhone vs the Nexus 6P in regards to slow motion and these videos might help. Build quality aside the phone's camera might be the best Nexus camera ever made.
Google Nexus 6P slow motion 240fps examples by: Maff Mace
Nexus 6P Slow Motion 240FPS Test! [Golf Trick Shots] by Max Lee:
Nexus 6P 240FPS Slow Motion Test! – Dunking by Zachary Anderson:
Slow Motion Test (240 fps) Subject : Falling Objects by Pierre-Luc Clermont – The flicker is bad but fixable with Flicker Free
Nexus 6P – Slow Motion test at 240fps by Sneha Sedani:
Portland rain in slow motion by Thomas Devaux:
Nexus 6P 240fps slow motion car wash! by Stephan Kop:
Nexus 6P Slow motion videos by Praful Gadge:
When doves fly- Nexus 6P 240fps 720p slow motion by Jeldon Craig:
Nexus 6p Slow Motion video by Umesh Rajput:
Nexus 6P Low Light 240 FPS Slow Motion Test by Kenneth Chau:
Slow motion 240fps Nexus 6P by Michael Panzer:
Nexus 6P Slow Motion Test (240 fps) Subject: Fire by Pierre-Luc Clermont
Nexus 6p Slow motion test by Tom Lawrence:
Vaping and Nexus 6P slow motion by Tisoy:
Boston terrier shake (240 FPS Nexus 6P) by Luke Macken:
Nexux 6P slowmo 240fps balloon burst by flagpoleeip:
There you have it, there is a lot of material out there but these samples should give you a good feel of what the phone can do. It does record audio in the 120fps and 240fps modes which is a plus and it really adds another dimension to some clips.
Happy New Year -HSC! 
(Visited 1,392 times, 1 visits today)