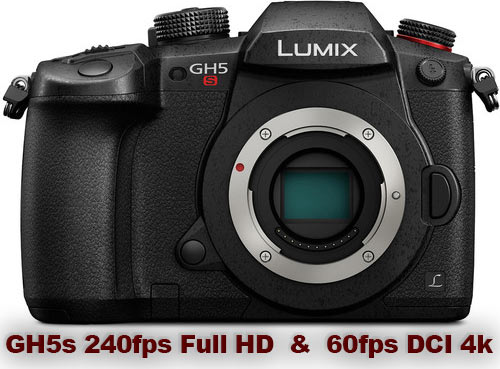 There is an aura over the Panasonic GH5s that has not been seen in a m43 camera possibly ever.  It is mainly due to the outstanding low light quality in 4k 24, 30p and 60p that beats full frame cameras like the Canon 5D Mark IV and competes head to head until ISO 25,600 with the king of low light the Sony a7s Mark II.    But as always, our focus is on the high frame rates which the camera also does quite good on.
The 4k 60fps quality is very close to the 30p quality which means excellent and you can shoot at 60p at night without worrying about noise.  The 240fps mode which is a first for a Lumix camera in full HD means that the camera aims to compete with Sony RX series cameras that have stacked sensors. We believe the quality to be acceptable but not good enough to be broadcast quality as stair stepping jaggies are all over the frame with the occasional moire pattern on fine detail that can break a shot.
Not all is bad as you will see from the samples below which in some strange way elevate the camera to a higher status due to the sheer talent of real filmmakers and shooters that know what they are doing behind the lens. The samples below show just how good of a video you can deliver on the GH5s in 240fps mode. It makes you forget about the quality drop and enjoy the storytelling and wonderful imagery that has been captured with this camera which should attract a plethora of talented video enthusiasts for years to come.  We hope Panasonic is able to improve on the VFR mode in newer cameras and deliver excellent quality as in lower frame rates so that these modes can be used without problem on production shoots.
We cannot recommend the GH5s for professional broadcast or film at 240fps but for web and smaller projects, you will enjoy the versatility this camera brings at under $2,499 USD. At 120fps it is much better as quality decreases the higher you push the frame rate.  Enjoy the samples gathered below and be sure to visit the creators of the footage if you like their work by following the heather links. -HSC
Panasonic GH5s Slow Motion Samples:
Dolphins : GH5S 240fps by 検見川ヒロ:
Ducks LUMIX GH5s 240P by Impress Watch:
Panasonic GH5S Slow mo 240fps VFR Test Footage by Escape Life Films:
GH5s Slow motion first test GH5s by Adrian Balaceanu:
GH5s Slow Motion (Test) by Domico Phillips:
Colorful Slow Motion at 200fps with Panasonic GH5s. by 2011peopleasia:
Panasonic GH5S 240fps Slo-mo test by Grant Johnston:
GH5s Slow motion …popcorn @ 240fps by Lazo VideosHD:
GH5s | super slow motion 240fps (upscaled 4k) on snow with Bracchi Italiani by 4K:
Panasonic GH5s 240fps by JSFILMZ:
GH5S Slow motion 60,120,240P conformed to 24P 4k by Cars And Cameras:
(Visited 5,429 times, 1 visits today)