Yes the BMPCC 4k looks like a DSLR crossed with a late 1990s digital camera but it's insides are not only powerful but could also mean that you can essentially afford two units of this camera instead of a Panasonic GH5s for example and get similar quality with the added ability to shoot RAW and power an XLR microphone directly from the camera with phantom power. Bang for your buck!
As for fast frame rates the camera can shoot 4k 60fps & 120fps 1080p in full RAW or Apple ProRes codec options. We sure wished the camera could shoot 240fps in full HD and 120fps in 4k even while time limited. It would have placed the camera in a much better position on our list due to its $1,295.00 USD price tag which is really the best value for money in a camera today. Well for September 3rd which is the actual ship date which may or may not derail your purchasing plans.
Blackmagic PCC 4k Main Features:
4/3″ Sized HDR Sensor
Record 4K DCI 4096 x 2160 Up to 60 fps
Dual Native ISO up to 25,600
Extreme Low Light ability
5″ Touchscreen Display (Non-Tilt)
12-bit CinemaDNG RAW and 10-bit Apple ProRes 422 (HQ)
Active Micro Four Thirds Lens Mount
120 fps Full HD Windowed mode.
CFast 2.0 & SD/UHS-II Card Slots
External Recording via USB Type-C
13-Stop Dynamic Range, 3D LUT Support
Includes DaVinci Resolve Studio License worth $299
Full HDMI Port
Mini XLR Mic Input with Phantom Power
New Touch Interface
AF Support On Certain lenses
LP-E6 Canon Style Swappable Battery
Bluetooth wireless camera control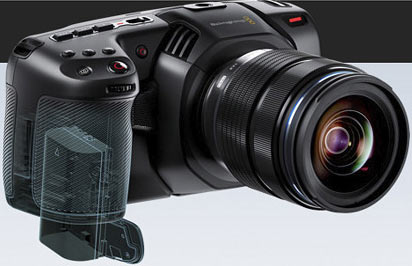 Blackmagic Pocket Cinema 4K Camera Hands on with CEO Grant Petty by cinema5D:
FIRST LOOK! Blackmagic Pocket Cinema Camera 4K! NAB 2018! by Kinotika:
All Frame Rates Supported:
Maximum sensor frame rate dependent on resolution and codec selected.
Project frame rates of 23.98, 24, 25, 29.97, 30, 50, 59.94 and 60 fps supported.
Off-speed frame rates up to 60 fps in 4K DCI, 120 fps in HD windowed.
Focus Support:
Focus button turns on peaking, autofocus available using compatible lenses.
Looking at the BMPCC 4k camera it is easy to be impressed by how much is offered here right off the bat.  We loved the image that the original BMPCC produced a few years ago when launched but the smaller sensor along with questionable low light performance and lack of high frame rates made it a hard sell.  Now that the sensor is supposed to be in the same league to the one used in the GH5s maybe it is even the same sensor, the differences now come in ports, codecs, and usability.  We are fans of the tilt screen so this fixed 5″ LCD on the camera while large makes it hard to operate when you are not looking directly behind and at the same height as the camera.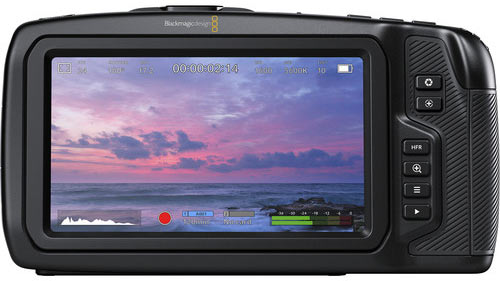 The Black Magic Pocket Cinema Camera 4k is now a full-fledged cinema ready camera that can deliver up to 60fps Cinema DCI 4k in RAW or ProRes codecs at 10bits.  All for under $1500USD which is so extreme a price that it could really cannibalize other options in the Sony, Panasonic and Canon camps by offering a really pro kit that could allow for several camera purchases to create multi-cam shoots for the price of a single competing camera price.
The ability to record to a USB-C Hard drive on the fly without using cards is a big plus for the camera.
Supported Codecs:
CinemaDNG RAW, CinemaDNG RAW 3:1, CinemaDNG RAW 4:1, ProRes 422 HQ QuickTime, ProRes 422 QuickTime, ProRes 422 LT QuickTime, ProRes 422 Proxy QuickTime.
Storage Formats:
4096 x 2160
CinemaDNG RAW – 270 MB/s
CinemaDNG RAW 3:1 – 128 MB/s
CinemaDNG RAW 4:1 – 96 MB/s
3840 x 2160
Apple ProRes 422 HQ – 110 MB/s
Apple ProRes 422 – 73.6 MB/s
Apple ProRes 422 LT – 51 MB/s
Apple ProRes Proxy – 22.4 MB/s
1920 x 1080
Apple ProRes 422 HQ – 27.5 MB/s
Apple ProRes 422 – 18.4 MB/s
Apple ProRes 422 LT – 12.75 MB/s
Apple ProRes Proxy – 5.6 MB/s
Storage rates based on 30 frames per second.
What not to love:
First off, the September 3rd release date is 6 months away which may or may not be a deal killer when cameras like the Panasonic GH5s and Sony options are readily available.  In the camera world, 6 months could be a lifetime and miss a lot of sales for it.
The lack of a tilt/swivel screen makes it a candidate for a field monitor or field recorder which makes it bulkier. For many filmmakers, this will be a must to be able to shoot unconstrained.
Calling it Pocket Cinema Camera is kind of a joke, it may fit a Scottevest but not a regular pocket.  They should have called it the portable cinema camera and retain the same acronym of BMPCC.
You will need UHS II SD cards so all your UHS I cards are not going to be used. This is a bummer for many that wish there was an option for an intermediate bitrate codec option in camera to record in the 100-200mbps to use these cards.  The USB-C recording to portable hard drives could be a better way to record and skip pricey cards all-together.
By using the LP-E6 Canon Batteries it means that users of Panasonic cameras will not be able to use the similar DMW-BLF19 batteries used on GH5, G9 & GH4 cameras for example.  If the camera supports m43 lens mount lenses it would have made sense to support a m43 battery instead of a Canon one. Maybe it was a power limitation but considering the size of the camera, it may have been possible to use two batteries instead of one for longer record times.   Not a deal breaker since these batteries are plentiful but would have been a better pick.
Lack of any frame rates above 120fps. There are no 150, 180, 200, 240p frame rates in full HD. Also, the slow motion at 120fps Full HD is from a sensor crop which means a huge crop on the sensor which may negate its use due to increased noise and artifacts. No downsampling to 1080p from the full sensor means that the crop will be quite severe maybe 4x so keep that in mind for 120p.
Hands-on NEW Blackmagic Pocket Cinema Camera 4K (First Look) by RhinoCameraGear:
More info needed:
It is still too early to tell how the camera will perform. Battery wise it may last 40min on a battery which is expected considering the giant screen. With a phantom-powered Mic expect much less juice.  This will be the Achilles heel of the camera but you should be able to adapt larger batteries in the field as with other Blackmagic cameras.
No image samples available but we expect excellent quality footage coming out of this camera. We will share those samples and the slow-motion clips when they are available. Expect to wait a few months for these to start surfacing.
We are excited about this camera for regular filmmakers but not for slow motion enthusiasts. You would be better off buying a camera like the Chronos 1.4 at 720p but with 1500fps in RAW mode for about $3k.   For filming movies, this new Pocket Cinema camera may be the best value ever in a professional camera with a low light ability to be the envy of many cameras.  Blackmagic is innovating in features and pricing, Panasonic, Canon, Nikon & Sony should start offering better value for our dollar.  Expect many of their cameras to lower in price by year's end as they now seem quite overvalued except in some specific cases.  -HSC
(Visited 4,096 times, 1 visits today)