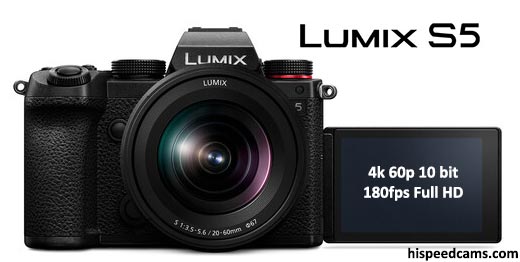 Now that Panasonic has officially announced the Lumix S5 Full frame camera which we saw as a direct replacement for the GH5 line even when now it seems a GH6 may be in the cards for a future release, it is now time to examine the slow motion modes on the camera to see if they stand a chance at becoming a feature which will be a seller for the new device or just one more feature.
When the GH5 was announced about 3 years ago it came with a 180fps 1080p mode that was better than many camera's 120fps modes and quickly became our favorite Lumix camera for slow motion as we noticed how the quality of the 240fps mode on the GH5s low light geared camera was heavily inferior in resolution. The GH5 really became the best value along with the G9 for 180fps slow-mo modes in Full HD.
Panasonic Lumix S5 Main Features:
24.2MP Full-Frame CMOS Sensor
UHD 4K60 Video,10-Bit Internal Recording
120p, 150p and 180p Full HD Modes*
Slow Motion AF Tracking up to 150fps in Full HD!
V-Log, HDR, and Dual Native ISO
2.36m-Dot 0.74x-Magnification OLED LVF
3.0″ 1.84m-Dot Free-Angle Touchscreen
Contrast-Detect 225-Area DFD AF System
5-Axis Sensor-Shift Image Stabilization
ISO 100-51200, Up to 7 fps Shooting
96MP High-Res Mode, Dual SD Card Slots
MSRP: $1,997.99  Body Only or $2,297.99 with 20-60mm Kit lens!
Pre-order includes a Free Sigma 45mm f2.8 Lens Via Mail-In Rebate
First the Good:
The 24MP sensor is excellent in low light, it will perform extremely well compared to Micro 4/3ds or APS-C cameras but it will not beat the low light king of cameras the Sony a7s Mark II or III.
The camera can shoot 10-bit internal up to 60fps but it will have an S35 crop at the 60fps 4k mode.  The sensor stabilization is not the best out there but it is quite got at up to 6.5 stops with sensor+lens correction.
If you pre-order the camera you get a free Sigma 45mm f2.8 Lens via mail-in rebate which seems either overly generous or somewhat suspect of fear of people jumping ship to other systems.  We feel this is a pretty good deal especially if you also get the kit lens as that one is over $300 USD discounted if you order it with the camera.
From the samples, we have seen the quality in stills and video is as good as the S1 and S1H with very impressive color characteristics that are as close to the Canon color range as we have seen.  Panasonic has done an excellent job with their color science since the GH5 and it shows how good it has become here.
The Bad:
We get the DfD Autofocus system with no Phase detection pixels which in our view are the only way to go for reliable video AF.  In the early tests, it seems to do quite well compared to previous Panasonic Efforts and most of the pulsing is gone in people tracking scenes.  However, the really depressing thing is that the reliability is not a 100% some would call it 80% or even less which means you simply cannot rely on it for mission-critical footage.
If your camera can only have in focus 8 out of 10 shots then you cannot rely on the video tracking AF for paid work.  Most footage is recorded with the expectation that focus can be controlled, if it fails then you lose time in production and worse yet if you find yourself in the edit suite a month later looking at out-of-focus OOF shots on your edit bay, then you have a huge problem on your hands.
Panasonic needs to stop clinging to DfD as their single do-it-all AF solution and change to a hybrid Phase+Contrast AF system like Sony or Canon are using.  This continues to be the Achilles heel of the system and they need to own up to their mistake not double down on it with every camera release.
For many users, the AF on the camera is good enough and many Vloggers will shoot with it just fine but professional videographers will need to go to Canon or Sony for reliable AF as even the flagship Panasonic S1H suffers from even worse DfD AF performance.
What about the Slow Motion?
Now on to our website focus, that of slow motion video. The Panasonic Lumix S5 is capable of 60fps 4k video at 10 bit with an s35 crop in the sensor at that mode and also a cropped 150 and 180fps mode in 1080p Full HD recording.
The good news is that now we have AF tracking up to 150fps in full HD. The bad news is, it is contrast-detect DfD which means the same problems as the regular mode. But in practice, higher frame rates offer better AF performance as the camera samples more times/sec so it can lock into subjects better!
Slow-Mo Modes & Bit Rates:
4k 60fps 10-Bit Internal
1080p 120fps, 150fps slight crop and resolution loss.
1080p 180fps – More severe crop and resolution loss.
H.264/MP4 4:2:0 8-Bit
UHD 4K (3840 x 2160): 23.976p/25p/29.97p [100 Mb/s]
Full HD (1920 x 1080):
23.976p/25p/29.97p/50p/59.94p/100p/119.88p/180p [20 to 28 Mb/s]
So we now have what could be the let down of this camera and that is the low bit rate quality in 1080p slow motion of [20 to 28 Mb/s].  That is the exact same bit-rate as that on the 3-year-old GH5 camera which is not ideal. It is also more of a 720p image up-scaled to 1080p which looks aliased and soft.
We rather have a 100Mbps mode like that possible on regular up to 30p and 60p full HD recording modes.  Slow motion is crippled by using one-third of the bit-rate allocation in what we believe would be related to camera memory due to the faster frame rates. However, the S5 has a massive memory buffer that should easily be capable of recording 100Mbps 1080p at 120, 150 and 180fps options.
The excellent video preview by DPreview below at 11 minutes 7 seconds shows the slow motion mode samples in action with a heavy resolution loss at 1080p 180fps.
Panasonic S5 First Impressions Review by DPReview:
Another sample below shows many more slow motion clips which seem to be at 150fps which offer Continuous AF in Slow Motion up to that point. 180fps will not use AF. Forward to 7Min for the samples.
Panasonic S5 – hands-on review and full autofocus test by extrashot:
What to do?
The Lumix S5 is an excellent camera that can really do it all for many people, but it will not have 100% reliable AF in video and it will also not win you any quality prices in higher frame rates except for 4k 60p at 10-bit s35 crop from full-frame which is improved in bits from a GH5 series camera which only shoots 8-bit at 4k 60fps but with no Crop which might be preferable.
The Camera kit with lens and free Sigma glass certainly makes a good case for value compared to other options and the camera from what we have been able to see is a pleasure to shoot with.  It is probably the most important Lumix S  L-Mount series camera yet as it becomes a GH5 alternative in cost with the added benefits and image quality jump of Full Frame, especially in low light.
If reliable AF is something you absolutely need then you are better off looking at the Sony a7s III with killer low light, or the Canon R5 which even shoots 8k.   You will have to spend a lot more for those cameras but other options in those systems are also available at similar price points to the Lumix S5.
If you value the Panasonic video shooting experience and will not be relying on the AF, then it is a simple purchase, this camera is going to reward you with excellent image quality and dependability with very little overheating.
As a slow motion tool, we believe your money is better spent in other options (See our Guide) or outright save for a full slow motion dedicated camera like the 720p Chronos 1.4 or Full HD 2.1, your production will go up a big notch with higher frame rates in the 1000s.
What can Panasonic do to make us more enthusiastic?  
Include Phase AF with DfD for a hybrid dependable solution.
4k 120p or 240p in future cameras 8 or 10-bit.
 Higher bit rate 1080p slow motion at 240fps and maybe 320 or 480fps modes for increased high-speed options.
Panasonic has a good camera here but it could be so much more with a  few well-executed tweaks! -HSC


(Visited 5,115 times, 1 visits today)