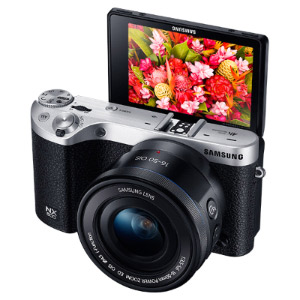 The Samsung NX500 has just been updated with firmware 1.10 There are several improvements and like it's larger sibling the NX1 now the slow motion mode of 120fps at 720p in this camera is more easily accessible.  The NX1 has a better slow motion mode than the NX500 as it is 1080p Full HD instead of 720p but this camera is also much less expensive and has also 4k video.  These enhancements add a lot of oomph to an already good pocket-able large sensor camera.
The biggest improvements are codec quality bit-rate up to 70Mbps and the large sensor readout for up to 60fps at full HD 1080p which reduces aliasing and moire in normal speed frame rates. It is rare for companies too add so much in firmware but it is encouraging to see Samsung not only try but constantly deliver useful firmware updates to their cameras. It shows they are serious for their camera imaging department.
Photo Mode Enhancements:
  Improvements to the overall Auto Focus:
– Enhanced AF performance in low light condition
– Enhanced AF performance in back-lit and spot light
– Enhanced Face Detection AF performance
– Enhanced AF performance in movie mode
– Added Zone AF mode
– Increased the size of AF to 5 steps in AF Area Size
– Increased the Face Detection Area of the sensor
– Added Selfie as Flipped mode
Video Recording Enhancements:
Added Pro mode in movie quality and increased the bit rates for movie size and quality (up to 70Mbps)
Movie Recording Time changed to 25 minutes at FHD 60P/50P
Larger sensor read out data size with improved FHD quality up to 60P
Remains in Stand By mode after recording
1280×720 (120P) setting in the Movie Size Menu for easy access
Sound recording is available
Capture individual 4K frame forward & backward with precision.
Added NEW MF Responsiveness mode
You can get the new firmware 1.10 for the Samsung NX500 Here:
Firmware 1.10 : http://www.samsung.com/uk/support/model/EV-NX500ZBMIGB
Sample of the NX500 Slow Motion 120fps on Youtube!


Sony RX100 IV new Slow Motion samples by Imaging Resource:
Imaging resource has released footage of the RX100 IV high speed video feature in action at 480fps and 960fps in a variety of situations.  They also have a great hands on preview here for you to read and support them!
They also have a download link at their website for the original MPEG file at 490MB to see actual quality without the usual YouTube  degradation.
Judging by the original file image quality it looks to deliver pretty acceptable quality at 480fps and much more reduced and aliased resolution at 960fps.   The jury is still out on the quality at 120fps and 240fps which could be the ideal quality resolution for the camera.  See our initial look at both the RX10 II and RX100 IV cameras for more info here.

There is still not enough footage out there to rank the new Sony cameras in our slow motion camera guide but once we have that video available we will crunch the numbers. So far these new cameras are going to displace a lot of cameras on the list by the sheer number of frames these new shooters can deliver.
Stay tuned for more of these cameras and other high speed news at HSC! Thanks for your support!
(Visited 2,902 times, 1 visits today)