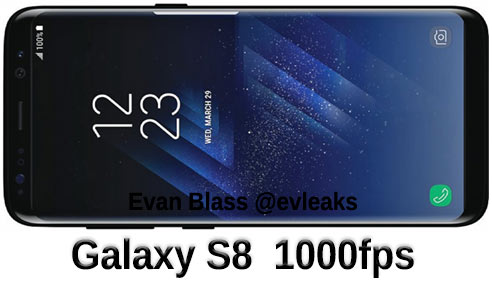 The Samsung Galaxy S8 is the most anticipated Android phone announcement of 2017.  The latest rumors suggest that the phone will feature fast DRAM attached to the camera module sensor package in a similar way to Sony's Xperia XZ Premium announcement last month. This is the same technology that is present on the Sony RX Camera series.
It is unclear if this sensor will be the same one in those Sony phones since it probably uses similar technology. Also unknown are the final imaging specs when it comes to higher frame rates but we have some guesses.
*Update March 29th 2017: The Galaxy S8 >>>will not have 1000fps mode see here<<<*
Galaxy S8 1000fps Spec?
Sony's implementation of the technology allows for up to 1000fps 1080p capture from the sensor into their DRAM package on the SoC. Therefore the maximum implementation of current technology has to be that limit.  If Samsung is using the Sony DRAM imaging sensor package for the Galaxy S8 we could see 1080p 1000fps for the high end phone. See videos below of it in action!
Girl blowing bubbles by Xperia XZs 960fps by mobile01:
There is a problem however and that is the Xperia XZs and XZ Premium from Sony that were announced at MWC this year. Those phones have the technology built in but with a limit on resolution and record time. Both phones have a 1 second recording limit along with only 720p resolution at 960fps.   Not ideal but still pretty impressive. Still we don't see Samsung releasing more capable Sony hardware that will steal sales away from Sony using their own technology on the XZ Xperias.
Xperia XZs 960pfps super slow motion 720p by mobile01:
Possibility #2:
If Samsung is not using the Sony Sensor and they are instead using their own Samsung  Exynos 9 Series 8895 Chipset couples with another sensor; then the phones could theoretically shoot 120fps at 4k and 1000fps at 1080p.   This is part of the rumor also since the Galaxy S8 sensor will be 12MP instead of the Sony's XPeria XZ Premium's 19MP IMX400 chip.
S8 Rumored Camera specs:
12MP imaging sensor Main Back Camera!
1000fps Video recording
Propietary Sensor and DRAM Module.
8MP Front camera
Second 3.7MP IRIS Frontal Scanner Sensor
We are extremely interested in what Samsung will bring to the forefront here and if they release a 1000fps capable phone and in 1080p resolution then there will be shock-waves across the higher frame rate market for a long time. Competition is heating up!
The Galaxy S8 will be unveiled March 29th in New York and London simultaneously.  We'll see if these rumors are true and we finally have a 1000fps quality phone in our hands. -HSC
Samsung Galaxy S8 Product Image Was Posted by Evan Blass at: https://twitter.com/evleaks
(Visited 1,192 times, 1 visits today)