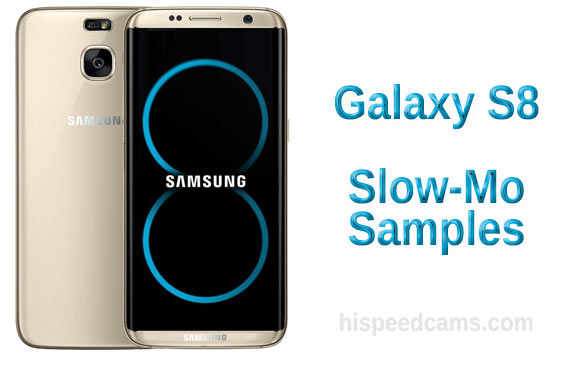 There was a lot of commotion online when the rumors of the Galaxy S8 having 1000 fps video surfaced. However that turned out to be pure unfounded speculation. Still the phone did offer slow motion of 240fps at 720p which is not bad for a phone but hardly flagship these days. Still that does not detract from the ability to capture cool slow-mo shots.
The quality is close to 720p on the Galaxy S8 but not entirely there. We see some softness, aliasing and moire in the shots with a tendency to be more apparent in diagonal lines and repeating detail textures.  Still the quality is on par with the iPhone 7 and Google Pixel XL phones. We have gathered a few samples for you to judge.
 Galaxy S8 Slow Motion Samples:
Samsung Galaxy S8 Camera Test review in Slow Motion by Samiullah karamat:
Slow Motion Video taken by Samsung Galaxy S8 by Sittiphol Phanvilai:
Samsung Galaxy S8 Bees Camera test by Enjoy and learn:
Samsung Galaxy S8 Camera II Super Slow Motion BMX by RiderTECH:
Samsung galaxy s8 captured cricket shots at #240fps by pk arena:
Samsung Galaxy s8 slow mo camera CROWS 240fps by pk arena:
Samsung Galaxy S8 – Best mobile camera by Ihthisam Ali:
Samsung Galaxy S8 Great Slow Motion – Rome 2017 by And Pro:
Samsung galaxy s8 and s8 plust slowmotion video test by Bravo Kid:
Samsung S8 slow motion test by Robert Delozier:
Samsung Galaxy S8 Super Slo-Mo Test by Albanian Tech:
There you have it! – The Galaxy S8 is a decent slow motion performer with some shortcomings like resolution and aliasing artifacts. Still we were surprised by the clean noise free video on most of the tests. The phone is doing an amazing job of maximizing dynamic range and signal noise to deliver a pretty remarkable image. It looks cinematic in some instances which is the result of continued evolution on mobile sensors.
The Galaxy S8 will be a phone many people will use as their main mobile device; having a decent slow motion mode is a good feature for those that want to delve into the art of higher frame rates a little bit. Still we wished it supported at least 120fps 1080p and not just 60fps and that it included a higher frame rate to compete with the Sony Xperia XZ phones.  All in all the S8 is Samsung's strongest phone to date and you simply cannot go wrong by choosing this device. If slow motion is your primary interest in a new mobile device we sure recommend you look at other options before pulling the trigger. -HSC


(Visited 16,337 times, 1 visits today)