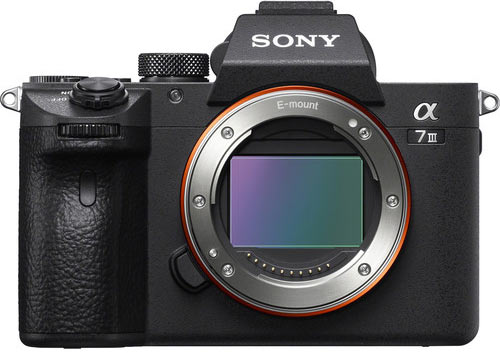 There is no question the Sony a7 III just announced by Sony is making a splash in the midrange to professional camera markets. We have a $1,998.00 USD Full Frame camera that can shoot 10fps at the full 24MP sensor resolution with probably the best AF tracking system ever shipped on a camera aside from the slightly better Sony a9.  The low light performance of the new a7 III is quite frankly impressive with nearly as clean video to the king of low light the a7s II up until ISO 12,800.
It also has the same high-quality 120fps Full HD mode in both full frame downsampling and APS-C crop modes with continuous reliable AF tracking that performs as good as the a9 system because when it comes to spec comparisons they seem identical.  You will be better off with this camera if you are looking for 120fps full HD than any we have seen before as quality, low noise, focus tracking and dynamic range all come together to create a superb package.
Sony a7 III Main Features:
24MP Full-Frame Exmor R BSI CMOS Sensor
BIONZ X Image Processor & Front-End LSI
693-Point Hybrid AF System
UHD 4K 30p Video with HLG & S-Log3 Gammas
120fps Full HD Slow Motion with AF Tracking
2.36m-Dot Tru-Finder OLED EVF
3.0″ 922k-Dot Tilting Touchscreen LCD
5-Axis SteadyShot INSIDE Stabilization
ISO 204800 and 10 fps Shooting
Built-In Wi-Fi and NFC, Dual SD Slots
USB Type-C Port, Weather-Sealed Design
3hr Video Battery Life Rec Time!
SONY ALPHA a7 III | First Look by Clifton Cameras:
Slow Motion 120fps Full HD With full AF!
We gave the Sony a9 last year the best image quality rating for 8 bit 120fps Full HD ever by getting a 98% rating in our camera guide which is no small feat. We loved the color, dynamic range, continuous AF and lack of aliasing artifacts with excellent detail that looked beyond cinematic.  The only real problem was the price which at $4,495 is a little rich for most everyone.  The new a7 III looks by all accounts to be an identical performer to the a9 in slow motion 120fps with extremely good AF and at less than half the price at $1,998 USD.
The Sony A7III manual is available for download Here (Click here Adobe PDF).
Slow & Quick Settings Online Guide 100fps/120fps 1080p Here:
http://helpguide.sony.net/ilc/1720/v1/en/contents/TP0001211742.html
A7III Detailed Review for VIDEO Shooters – A73 A7 III by Max Yuryev:
As you can see in the excellent initial review of the video mode on the a7 III  by Max Yuryev the camera "Go to 9:45 for the 120fps mode" is a stellar performer in slow motion with dependable AF tracking which is second to none. Very impressive and could mean slow-motion cameras will be able to AF in the near future up to 240fps with no loss of focal point. Excellent for fast birds, sports, and unexpected phenomena.
There is a quality loss when shooting in the 120fps APS-C crop mode on the camera which creates more lens reach; the aliasing starts to show but the Full Frame oversampling mode which is default is silky smooth with excellent resolution and lack of artifacts. It really looks as good as 1080p 60fps when shooting FF.
The rolling shutter on the sensor is not class leading as this is not a stacked sensor but you will not get much in the way of rolling shutter artifacts unless you bump the camera or swish pan severely. Still, this is an aspect where  Panasonic is still better than Sony, probably due to the much smaller sensor in m43.
More Notes on the a7 III:
The a7 III camera has a 5 axis stabilizer that is better than previous Sony iterations but it is still not as good as the one inside the Panasonic GH5 for example and further from the Lumix G9 which is class leading with 6.5 stops which seems to be the physical limit for a system like this.  Some peg the system at 4 stops which is great for a Full Frame camera but not dependable enough to leave the tripod behind. Still, it is good to have for many shooters.
The Image quality in Photo and video mode in this camera is probably the best combination ever in any camera released with 15 stop dynamic range in photo and 14 stops in video mode with Slog2/3 which is included in the package as opposed to systems like the V-Log L in Panasonic GH5 which is a $100 upgrade. "though it is starting to be bundled in reaction to price changes" Here.
Should you buy this camera?
If you need a camera under $2,000 USD with excellent image quality in Photo & Video with the best AF continuous AF system possibly ever, then the a7 III is a no-brainer purchase.
However, the elephant in the room is the looming announcement of the Sony a7s Mark III which should be released by April this year.  Many expect 10-bit video, 14-15 stops of dynamic range, HDR video, 240fps slow-motion capture, 5 Axis Stabilizer, extreme Low light performance up to ISO 819,200 which is a stop better than the a7s II and the same AF system as the a9 & a7 III. It will probably cost above $3k USD which will be a harder pill to swallow but will become possibly the camera of the year for video professionals.
In any case, a month is a short time to wait for NAB April 7th-12th in Las Vegas. If the camera announced is below your expectations based on features vs price then the a7 III is a perfect blend of performance and price which will be the introduction to the benefits of no compromise Full Frame to the masses.  Sony is killing it and Canon, Nikon & Panasonic are probably scrambling trying to find a way to compete effectively.  Sony has made an impressive camera at an affordable price relatively speaking. -HSC
We will have more slow-motion samples as they become available!


(Visited 14,886 times, 1 visits today)