Blackmagic Design has announced a new camera today.  The URSA Mini Pro is a marriage of their higher end URSA camera with the still in the product line URSA Mini.  It offers built in ND Filters, 15 stops of dynamic range "which is huge for filmmakers", tons of ports, in body buttons and controls and easy interchangeable lens mounts.
For our slow motion fans there is not a whole lot offered by the camera but there are some built in features.  60fps in 4k DCI and also at 4.6k full sensor resolution is very useful and keeps the trend with the 4k over-crank frame rates debuted in 2016 on several cameras. The other is 120fps at 2k windowed resolution which is passable but not ideal. However the slow motion on these cameras is high quality and seldom does it have artifacts.
Camera Features
Effective Sensor Size
25.34mm x 14.25mm (Super35) – "Not micro 4/3 as rumored"
Lens Mount
EF Mount (Interchangable with PL and B4 mount)
Lens Control
Electronic control via EF mount pins or 12-pin broadcast connector for compatible lenses
Dynamic Range:
15 Stops.
Shooting Resolutions
4608 x 2592, 4608 x 1920 (4.6K 2.40:1), 4096 x 2304 (4K 16:9), 4096 x 2160 (4K DCI), 3840 x 2160 (Ultra HD), 3072 x 2560 (3K Anamorphic), 2048 x 1152 (2K 16:9), 2048×1080 (2K DCI), 1920 x 1080
Frame Rates
Maximum sensor frame rate dependent on resolution and codec selected. Project frame rates of 23.98, 24, 25, 29.97, 30, 50, 59.94 and 60 fps supported.
Off-speed frame rates up to 60p in 4.6K, 120p in 2K windowed.
Built in ND Filters:
Four position ND filter wheel with clear, 2-stop, 4-stop and 6-stop ND filters.
FocusFocus:
button turns on peaking, auto focus available using compatible lenses.
Iris Control
Iris wheel and touchscreen slider for manual iris adjustment on electronically controllable lenses, iris button for instant auto iris settings on compatible lenses so no pixel is clipped in film mode. Scene average auto exposure in video mode.
Screen Dimensions  –
4″
Screen Type :  LCD capacitive touchscreen.
Metadata Support
Automatically populated lens data from electronic EF, B4 and i/Technology compatible PL lenses. Automatic recording of camera settings and slate data such as project, scene number, take and special notes.
Camera and DaVinci Resolve Press Conference by Blackmagic Design –Skip to Minute 42 for the URSA Mini Pro:
Controls
Touchscreen menus on 4" screen. Push buttons for other controls. 2 assignable shortcut keys.
Timecode Clock
Highly accurate timecode clock. Less than 1 frame drift every 19 hours.
Recording Formats
Lossless CinemaDNG RAW, RAW 3:1 and RAW 4:1 with film dynamic range at 4608 x 2592, 4608 x 1920, 4096 x 2304, 4096 x 2160, 3072 x 2560, 2048 x 1152, 2048 x 1080 and 1920 x 1080. Apple ProRes 4608 x 2592, 4608 x 1920, 4096 x 2304, 4096 x 2160, 3072 x 2560, 2048 x 1152, 2048 x 1080 and 1920 x 1080 with either film or video dynamic range.
Storage Type: 2 x CFast 2.0 + 2 x SD UHS-II cards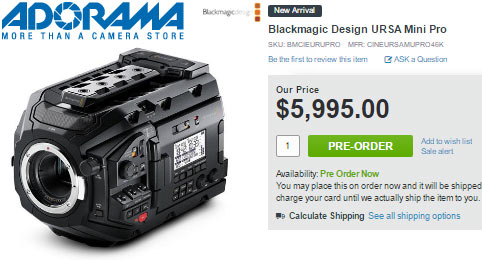 A New URSA Mini!
The press conference above does a pretty good run through of what the camera is capable of but doesn't go deep into the frame rates. In past cameras the URSA has delivered excellent slow motion quality up to 150fps and we expect the 120fps 2k – 2048 x 1152 (2K 16:9) mode which will be windowed in the Super 35mm sensor should give a heavy crop but it should retail pixel and line quality without sacrificing detail or incorporating artifacts.
Other cameras show these artifacts when doing higher frame rates. The Panasonic GH5 for example has near excellent 60fps 1080p slow motion but it has 150fps and 180fps 1080p frame rates that decrease detail severely while adding aliasing to the shot.  You get 720p resolution in the end with some line skipping which can cause shimmering and can ruin shots.
The URSA Mini Pro is not a camera geared for the slow motion crowd. It is a camera that offers 15 stops of dynamic range with no compromise RAW DNG recording and completely targeted to the mid range film maker crowd.  The kind of image quality you get from these cameras rivals the ARRI Alexa and RED Dragon cameras and that is why it is so important.  You get digital film quality for $5,995 USD body only.  Other rivals start in the mid range five figures which puts these options out of the majority of mid-range and small video producers and filmmakers.
You get a highly capable production A camera with large batteries, uncompromising quality and SSD storage options if you do not like SD or CFast cards of which it has 2 ports for each format; 4 in total. You get 60fps up to 4.6k in RAW and 120fps in 2k resolution by windowing the center of the sensor. It is adequate for many productions but we cannot recommend it as a slow motion tool when there are some real options out there for much less money.
You could get a Sony FS7 for 8k , Sony FS5 for $5.9k or FS700 with lens for $4.6k which offer pretty good production quality footage on a capable body. Or go for an edgertronic SC1 700fps for $5.5k You will not get RAW quality without an external recorder on the Sonys or the 15 stops of dynamic range offered by the URSA Mini Pro but you get better slow motion features.
Final Word: If you need a 15 stop RAW camera for film making and 60fps 4.6k and 120fps 2k is your bread and butter you really cannot go wrong with an URSA Mini Pro camera, it is an excellent production all in one camera package with the added benefit of offering DaVinci Resolve included. If you need higher frame rates there are many more options out there in several price ranges including the surprisingly good Sony RX100 V which offers 4 seconds at 1080p 240fps among other high speed frame rates for $999.   See our HSC Camera Guide or the best slow motion cameras of 2016 for more info!
The URSA Mini slow motion example below from the non pro camera should give you a good indication of the slow motion quality the URSA Mini Pro can deliver:
Blackmagic URSA Mini 4.6K – Slow Motion Test by Adam Roberts:
(Visited 10,565 times, 1 visits today)