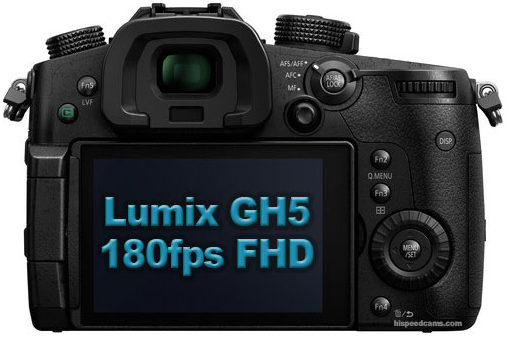 The Panasonic GH5 has been the camera darling of early 2017 for video enthusiasts and the addition of 120fps, 150fps and 180fps full HD was one of the most awaited features for the camera. Earlier footage showed a decrease in image quality when using higher frame rates on the camera and the appearance of moire and aliasing was evident. It was still far better than what the GH4s 96fps mode was able to do.
Recent new footage has re-examined the slow motion VFR mode and while there is a drop in quality the 180fps mode is still usable for many applications due to it retaining a lot of detail compared to other cameras.  The image is loosing quite a lot of resolution in the vertical so it will not be true full HD when you compare with the up to 60fps mode.
GH5 New Slow Motion Footage:
Panasonic GH5 | Variable Frame Rate – 96fps, 120fps, 180fps quality comparison by Osamu Hasegawa Films:
Panasonic Lumix GH5 180fps 1080p test | Standard Profile Ungraded by KnightVision:
Panasonic GH5 180fps Snow Test by Groovoost Inc.:
Pre-Production Panasonic GH5 Slow Motion – 180fps by FuzeDzn:
Panasonic GH5 – 180fps Champagne by Osamu Hasegawa Films:
The Panasonic GH5 camera is shaping out to be the choice of many budget film makers and video enthusiasts due to it's 4k 10 bit capabilities and up to 50/60p in 4k as well.
You are getting true 96, 120, 150 and 180fps in full HD modes with quality degrading the higher you go. The sweet spot seems to be 120p where aliasing is less pronounced and the lowest quality unsurprisingly is the 180fps VFR mode.  Still the quality that the camera delivers is above HD 720p in resolution terms but not true full HD due to line loss.  The camera is throwing line information to cope with the data rate and or heat requirements.
The VFR quality will probably be identical in the shipping version and will probably not get tweaked from now on so you can make your judgement of the slow motion mode today.  The GH5 will be added to our Camera Guide soon once it is readily available. -HSC


(Visited 2,898 times, 1 visits today)