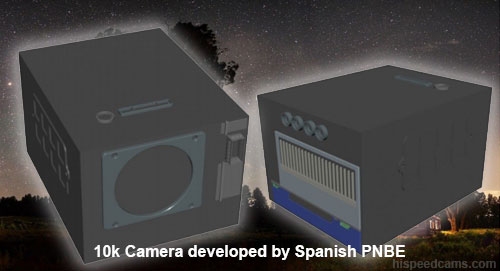 The Spanish Association of Broadcast, Cinema and TV Producers or PNBE for short, is sharing some information about a camera they are custom building for the purpose of shooting a new series for Spanish Television that explores  Nature and Astrology "Or maybe Astronomy" which could be a translation error.  The new camera will be able to shoot at pretty remarkable specs like 10k and 8k video including higher frame rates at many resolutions that surpass anything in its class.
The camera needs to have extreme detail and low light performance with RAW capabilities.  Only a dozen will be built for the TV program but we assume they share the information in order to see if there is interest in the market for DPs and other professionals to own such a camera.  We were happy to see that the spec sheet is very detailed with both H.264 and H.265 support aside from RAW and Cinema DNG formats in recording.
PNBE 10k Camera Slow Motion capabilities:
10k at 72 fps Progressive
8k ws at 96fps Progressive
4K 16:9 UHD at 120p-150p
No more information like support for lower resolutions was shared. Such a camera would probably be able to output 480fps at 1080p without taking a sweat if the sensor is fast enough to do it. We may know more as development continues.
Other Specs for the camera:
6GBps write to achieve 16bit Raw of 10K at 72fps
M.2 PCIE 16TB Drive for up to 8hrs of recording
RAW,  H.264 or H.265 & CinemaDNG
USB SS 3.1 for fast transfers
HDMI 2.0 Monitoring
Stereo in/out audio ports
eSATA and USB Type C
Detachable Sensor Module for recording via fiber channel without being attached to camera body.
uses NVIDIA Jetson Xavier Embedded
chip processing board 512 core GPUS
(Volta), memory at up to 172 GBps, and the ability
to encode 1*8K video in either H.264 or H.265 in
real-time.
Max default native resolution: 9.600 x 6.900 pixels.
○ Other video resolutions: 1080p, 2K, 4K, 6K, 8K, 10K
● Framerate max res: 72 (raw).
● Detachable sensor: up to 2 meters or + depending resolution.
● Sensor size: APS-C
● Codecs: raw, raw S, cinema dng, h264 and h265.
● Internal media: SSD up to 16 TB
○ Max data transfer: 6 GBps (6000 MB per second)
● Aprox dimensions: 14 x 12 x 10 cm.
● Lense mount: Canon EF
○ with pin support for motorized aperture and focus.
● Power: 2 separate dc inputs of 12~15V. 20 Whr to 44 Whr.
Autumn 2020 unit production deadline for the TV Station.
These are the early development stages and this camera may change considerably by the time it is delivered. If they manage to hit every mark, they may be able to further extend the production run for other studios interested.  In the meantime visiting their official site below should be your first stop if you are interested. -HSC 
For more information, pictures and a contact form, visit the soon to be launched:

  www.pnbe.org – 

The project is managed by Aitor Elorga.
(Visited 220 times, 1 visits today)