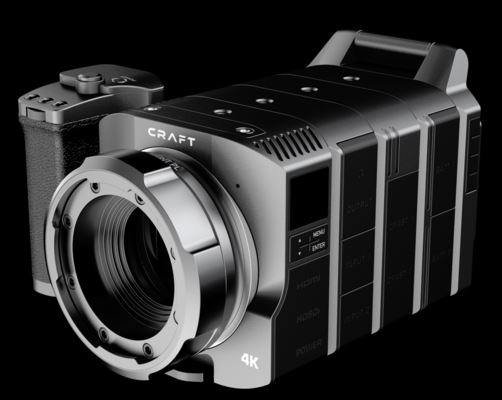 Something that came out of NAB 2016 is the paper launch of the CRAFT Camera a modular low cost professional camera that can record in Pro Res and Cinema DNG RAW  with more formats to be announced.
It is unclear at this point if frame rates will ever be higher than 120fps but since the 4k spec also includes them; it remains a solid option for 4k slow motion at 120fps or 5x slow motion at 24p playback. For a 4k camera the pricing of $2,984 for a full 4k Cinema package is not to shabby!
Preliminary TECHNICAL SPECIFICATIONS
Full technical specifications will be announced early this summer.HD Video Element, Super 16mm CMOS Sensor with Global Shutter (1920×1080, 1280×720)4K Video Element, Super 35mm CMOS Sensor with Global Shutter (4096 x 2160, 1920×1080, 1280 x 720)Frame rates  23.98, 24, 25, 29.97, 30, 50, 59.94, 60 Fast and slow frame rate speeds at intervals up to 120fpsRecording Formats Cinema DNG and ProRes (additional formats will announced).
HD VIDEO ELEMENT
Starting with a Super 16mm sensor with resolution of 1920 x 1080, the HD Video Element produces stunning images. It operates at high speeds up to 120fps. Key features include 13 stops of dynamic range, global shutter PL, EF, and MFT Speed Mount options, and ND Sled filter technology.
4K VIDEO ELEMENT
The 4K Video Element is identical in size to its HD sibling but houses a Super 35mm sensor that produces images at 4096 x 2160 and high speed rates at 120fps. It is a production ready cinema camera in a small package. Key features include 13 stops of dynamic range, global shutter, PL & EF Speed Mount options, and ND SLED.
The camera modules are interchangeable and if you need 4k you buy the 4k Video element module and attach it to the rest of the ports module, storage module and power module.  This flexibility is very close to what the RED Epic and Dragon lines allow but for pennies on the dollar cost compared.
If this camera is a serious image quality champ it will create a huge adjustment in market expectations for price and quality under $5k USD.  We expect the camera to allow H.264 or H.265 as options in the future if needed or some other compressed codecs.
This camera is still kind of a paper launch but Craft Digital Systems is based in Atlanta, Georgia USA and that should help it get some confidence. Their assembly is done outside the USA however which is not unusual for electronics.
Pricing for the 4k CRAFT Camera ready to shoot  with the sensor and storage elements starts at $1,998 but we believe the full package at under 3k is the better value.
The camera is scheduled to be finished and assembled for shipping in the Summer of this year. We wish them luck!
We do not recommend buying any camera and have no financial interest in the gear we cover.  We recommend doing your due diligence before buying any camera and the risk of startup gear.
All information regarding the CRAFT camera can be found at their website, including the reservation page and more specs / pricing:
(Visited 769 times, 1 visits today)