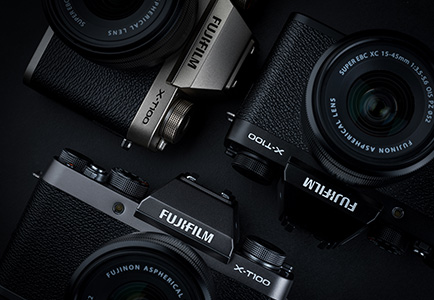 The new Fuji X-T100 may be an afterthought for videographers due to its stills focus. It has a 4k UHD mode but only records at 15fps which begs the question why bother including it?  It is certainly useless for everything except time-lapse video recording if you think stuttering footage is rubbish.  However, the camera does have a 720p 120fps mode that can record for up to 7minutes while conforming into a file at 30fps which equates to a 4x slowdown or if later edited at 24p a 5x slowdown from real time.
Fuji industrial design is just eye-catching and excellent when it comes to looks.  The X-T100 does not disappoint with its retro but chiseled look with a flippy screen that screams for a better video mode.  We are fans of the Fuji cameras and are glad to see that even in this low-end entry the high frame rate video recording feature is retained. We hope to see them implement 240fps or higher in future models as their recent efforts in the X-H1 show encouraging initial results in 1080p with superb color rendering.
Fuji X-T100 Main Specs:
24.2MP APS-C CMOS sensor and high-speed imaging processor equipped with Phase Detection AF system
3" (approx. 1,040K-dot) high-resolution LCD touchscreen can be tilted 3 ways.
Standard output sensitivity of ISO200 – ISO12800

Extended output sensitivity: ISO100 – ISO51200

Bluetooth® version 4.1 low energy technology
Wi-Fi® image transfer and remote camera operation
Improved battery life for still images – approx. 430 frames
Fuji X-T100 Movie recording
4K 3840 x 2160 15P, Continuous recording: up to approx. 30 min.
Full HD 1920 x 1080 59.94p / 50p / 24p / 23.98p, Continuous recording : up to approx. 30 min.
HD 1280 x 720 59.94p / 50p / 24p / 23.98p, Continuous recording : up to approx. 30 min.
High Speed Movie 1280×720 120fps  option 1.6x / 2x / 3.3x / 4x, Continuous recording : up to approx. 7 min.

* For 4K movie recording, use a card with UHS Speed Class 3 or higher
* Although movie recording will continue without interruption when the file size reaches 4 GB, subsequent footage will be recorded to a separate file which must be viewed separately.
Fuji Guys – FUJIFILM X-T100 – Top Features by Fuji Guys Channel:
First Look | Fujifilm X-T100 by David Flores & B and H:
What about Slow Motion on the X-T100?
It is clear from the get-go that the X-T100 will not be the videographers dream camera, even while it has the best tilt screen design we may have ever seen which combines the standard vari-angle display with a Sony style hinge which gives you the best of both worlds. If we had this display in a more capable video workhorse camera it would be hard to beat for vlogging.
The only 120fps slow motion sample we could find on the camera is from this excellent review below by London Camera Exchange. SlowMo Sample at 2:55:00!
Fujifilm X-T100 | First Look by London Camera Exchange:
The quality is not as good as we hoped for considering it takes such beautiful stills with its 24MP sensor and the trademark Fuji Film Simulation profiles.  There is aliasing, moire and detail obliteration in the frame.  The 1080p 60fps mode does offer far better quality so if you buy the camera opt for shooting up to that frame rate if you have quality in mind.
We are expecting Fuji to show us a 240fps sensor stabilized camera with Film simulations in video mode that can create awe-inspiring slow motion footage.  The current development stage in their line makes us hopeful for that future release as we have been waiting along with several Fuji enthusiasts for the company to really push forward in video features. The X-H1 is a big step in the right direction but not more than that, we want Fuji to compete with Sony, Panasonic & Canon head to head on video mode.
The X-T100 is a fantastic stills camera with a  half-baked video mode all enclosed in a beautifully modern yet traditional design. It has the best 3-way tilt screen design functionality possibly ever in a camera, which many videographers would love to have in more capable video-centric bodies. Fuji is slowly getting there we just wish it was a bit faster.  We will have more samples in slow motion on the X-T100 as they become available. – HSC 
The camera will be shipped on June 18th this year and Amazon has it for Pre-Order here with the 15-45mm XC Kit lens for $699.00.
The new FUJIFILM X-T100 body will be available on June 18, 2018 in the U.S. and Canada for USD $599.95 and CAD $749.99.
(Visited 2,188 times, 1 visits today)