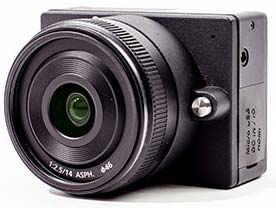 The Kickstarter project Z  E1 has been funded over 4x their initial goal and now proceeds to build the cameras based on a Micro 4/3 sensor and an extremely small GoPro-like camera body that does 4k video and up to 120fps HD video in an upcoming  software update; the camera form factor is ideal for drone aerial photo and video. It promises professional video and photo quality with no compromises in an incredibly small body which would be close to what Olympus attempts with the Air A01 or DxO with the One. The camera does have a 2.5″ inch Screen on teh back but also relies on a 200-300ms response time over wifi which is short for little lag. The Interface is iOS and or Android and are already available for download on these platform stores for remote shooting.
ZCAM E1 Spec Sheet:
"We have several challenges to face being the first non-Japanese company to develop a 4k interchangeable camera system. Our experience with the latest A9 chip from Ambarella has been a major asset. Cooperation with Panasonic to embed their sensor and lens into E1 has helped us to finalize the product. " ZCAM
From the statement above you can get a lot of insight into what the camera is built on and what kind of components make it breathe. It is a GoPro A9 chip with a Panasonic sensor MN34230 "still capture it's 2x crop. For video mode, it's around 2.34x 35mm crop; they do claim a perfectly acceptable quality at ISO 6400 and up to 102,400 ISO for extreme low light.  The Dynamic range as their specs is now 10 stops with a possible 11 stops with a future wide DR update.
They can reach those high ISO numbers due to their proprietary noise reduction " Advanced 3D noise filters using motion compensated temporal filtering (MCTF ) technology reduces noise and jitter." As to the effectiveness of the technique compared to other traditional sensor noise reduction methods remains to be seen.  It does sound encouraging.
Z  E1 Kickstarter Campaign Video:
The auto-focus performance is claimed to be excellent and the video quality even at night to be professional in nature.  The creator worked on the GoPro and this is a version of a technology refined and improved by a bigger sensor.  The mount is an active MFT compatible with Panasonic and Olympus lenses which makes it ideal for these system owners and those who do not want their expensive GH4, OMD or GH3 MFT camera to be lost in a drone crash in land or water.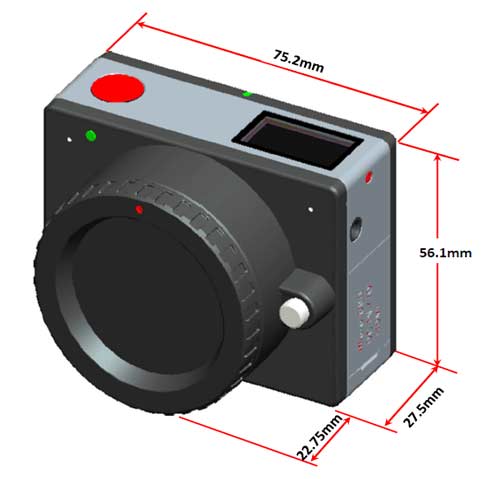 The camera looks like a GoPro Extreme with a real lens mount, they have also been working on a waterproof case that may or may not be released in the future.  Even if this is realeased it will probably be limited to short lenses like a 14-42 or pancakes like the 20mm f1.7.  You cannot understate the importance of a large sensor camera with an underwater housing for all sorts of activities. Add to this that the 4k looks to be great in quality and it may very well become a diver  or sports camera of choice.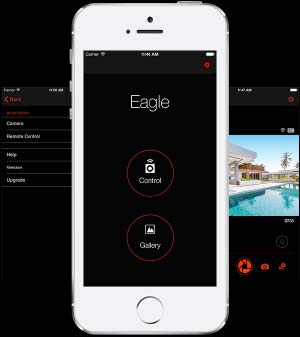 What about Slow Motion?
As a slow motion choice the Z E1 only real meaningful frame rate will be the 720p HD mode at 120fps in a promised upcoming update. As to the quality we expect it to be a windowed portion of the sensor. It would have been great if this little camera could do higher frame rates at full HD.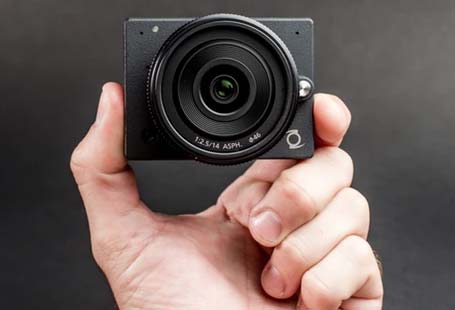 There are Kickstarter kits still available on their campaign page if you might be interested in getting one of these for your work. Be it a crash cam or a drone cam on steroids in a tiny package, the trend of smaller and more powerful minimalist cameras continue but that doesn't necessarily mean that quality has to suffer as it is proposed on the Z Camera E1.
We wish this group of entrepreneurs much success and if they release future models we hope they take some time apart for higher resolution slow motion video. Small cameras are growing up and the Z E1 seems to be a pinnacle in the current state of transition.
For more information about the Z E1 visit their Kickstarter page here: https://www.kickstarter.com/projects/2081787381/e1-camera-4k-uhd-interchangeable-lens-camera
Disclaimer: We have no relationship with Z Camera ; the E1 or any of their future products. If you decide to buy one be advised that as with many Kickstarter campaigns there is a the risk of non delivery. HSC informs and covers high speed options of low cost and we do not recommend any purchase. We do the homework and you decide.
(Visited 2,753 times, 1 visits today)