Announced just last week the Sony PXW-Z150 gets a lot of right for the low end pro video market.   It has 4k 4:2:0 as many in the competitive price range of $3,595 MSRP. It has 4:2:2 1080p 10 bit at 50mbit  which is a good surprise and it seems to be carried to the also included 120fps full HD 1080p slow motion mode.
The sensor is of the stacked kind and it is 1″ sized, the same as the ones in the RX100 IV and RX10 II from Sony which are really good at slow motion for a low price. However those full specs are not carried through in the high frame rate mode or HFR.  It maxes out at 120fps 1080p instead of 240fps on the RX series in the 1k range and the FS5 which is a tad more expensive than the Z150.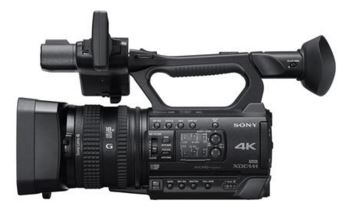 Sony PXW-Z150 Main Specs:
4K and Full HD  Video Capture
1.0 type 120 fps HFR HD stacked CMOS
Sony G 12x zoom lens
4K QFHD Long GOP 4:2:0 8bit 100Mbps
Full HD Long GOP 4:2:2 10bit 50Mbps
12x Optical Zoom with servo
Built-in Wi-Fi
Super Slow Motion Function:
XAVC HD: Frame rate selectable 120 fps [NTSC]
XAVC HD: Frame rate selectable 100 fps [PAL]
Sensor specs:
1.0-type (13.2 mm x 8.8 mm) back-illuminated Exmor RS CMOS sensor
1.0 Type, 120 fps HFR – Revolutionary imaging performance with Exmor RS
To deliver imaging performance previously impossible for a compact camcorder, Sony has developed the world's first 1.0 type stacked CMOS image sensor for professional video applications. A 2x increase in read-out speed, compared to a conventional 1.0 type sensor, enables beautiful 5x slow motion image capture up to 120fps in Full HD and high resolution 4K recording with full pixel readout without binning at 10 bit 4:2:2.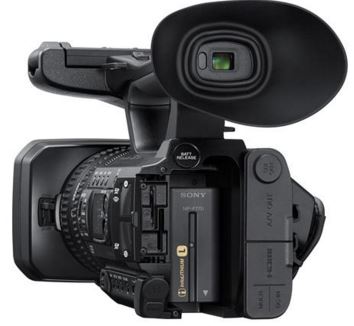 PXW-Z150 High Q 4K and 120fps HD sample footage by Sony:
So in the end the camera is an event workhorse with 4k at 100Mbit and excellent 1080p with a slow motion 5x 120fps function.  It has 2 XLR audio inputs and Sony battery compatibility.  It has a full sensor read out with perfect per pixel quality at 1080p and that carries to the HFR 120fps mode which is ideal.   Does this package warrant a purchase or buying an RX10 II makes more sense?  There is no question that this camera will do better in terms of image quality but for less that 2k USD more you can get a Sony FS5 with a lot more features and slow motion modes, not to mention interchangeable lenses.   The camera is great for what it does and for small news outfits and wedding or event videographers this makes a lot of sense without hassle.
Adorama has the camera for pre order now with estimated shipping in April 2016: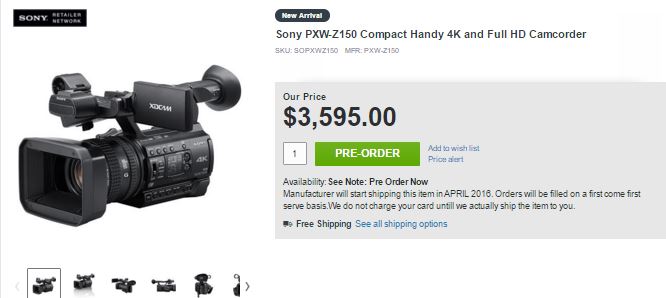 SONY PXW-Z150 at New York Fashion Week : Adorama Exclusive:
(Visited 2,503 times, 1 visits today)