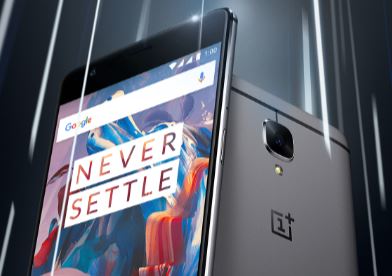 OnePlus the Chinese Startup Smartphone company has today unveiled the 3rd incarnation of their very popular OnePlus Phone in the OnePlus 3.  Specs bring it in line with the competition for the most part with the Snapdragon 820 Chip, an astounding 6GB of RAM, 64GB internal storage and Dash Charge which is their version of rapid charging technology.
The 3000 mAh non removable battery will get one day's worth of juice in 30 minutes charging with Dash or 63%.   This should be an average use scenario.  The Camera spec is impressive with real optical stabilizer, 16MP, Sony IMX 298 sensor and RAW image recording
OnePlus 3 SPECS:
CPU: Qualcomm® Snapdragon™ 820
Quad Core, Kryo™: 2x 2.2 GHz, 2x 1.6 GHz
GPU: Adreno™ 530
RAM 6GB LPDDR4
Storage 64GB UFS 2.0
Sensors: Fingerprint sensor, Hall sensor, Accelerometor, Gyroscope,
Proximity sensor, Ambient light sensor and Electronic Compass
Other: USB 2.0, Type-C, Dual nano-SIM slot, 3.5 mm audio jack

Battery: 3,000 mAh (non-removable) Dash Charge (5V 4A)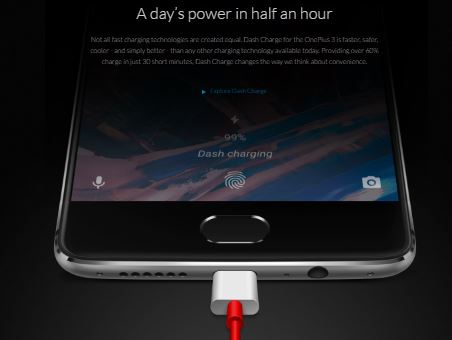 Rear Camera Specs:
Sensor: Sony IMX 298 Sensor
16 MP: 1.12 µm
OIS: Yes
EIS: Yes
Autofocus: PDAF
Aperture: f/2.0
Video: 4K resolution video at 30fps
Slow Motion: 720p video at 120fps
RAW Image support: Yes
Front Camera: 8MP 1080p 30fps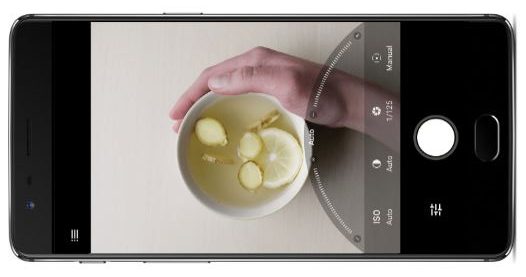 OnePlus 3 Official Launch Video:
Slow motion disappointment!
As you can see trhe slow motion spec has remained constant in all of the OnePlus smartphone releases. The spec has been unchanged from 120fps at 720p HD since they first went to market.  As to why that is, it is not clear but it is safe to assume that slow motion frame rates are not a priority for the team as a spec.  A phone of this caliber should be able to deliver 120fps in Full HD 1080p and or 240fps 720p HD video without breaking a sweat.   Lesser speced phones offer this and more since two years back which have much smaller and slower memory footprint.  Considering the 6GB are LPDDR4 which is plenty fast, the phone either has a software limitation or a sensor one.
OnePlus 3 Slow Motion, 4K compilation by Gogi Rana:
"IMX298 Brief from Sony

IMX298 is a diagonal 6.521 mm (Type 1/2.8) 16 Mega-pixel CMOS active pixel type stacked image sensor with a square pixel array. It adopts Exmor RS™ technology to achieve high speed image capturing by column parallel A/D converter circuits and high sensitivity and low noise image (comparing with conventional CMOS image sensor) through the backside illuminated imaging pixel structure. R, G, and B pigment primary color mosaic filter is employed. By introducing spatially multiplexed exposure technology, high dynamic range still pictures and movies are achievable. It equips an electronic shutter with variable integration time. It operates with three power supply voltages: analog 2.5 V, digital 1.1 V and 1.8 V for input/output interface and achieves low power consumption. In addition, this product is designed for use in cellular phone and tablet pc."  Product Specs PDF Here!

Full Sensor Resolution 30fps- 4k/ 2k 30fps  1080p 60fps (Normal/HDR)
So in the end we may have a sensor limitation here. By choosing the IMX 298 sensor, OnePlus has capped frame rates for slow motion at 720p HD 120fps or 60p 1080 Full HD.
It is a good sensor with 4k 30p support, phase detection pixels and HDR capture capacity but the sensor is not built for higher frame rates.  Therefore the OnePlus 3 is not a slow motion crown contender even when the camera specs are extremely high end with ample pixel wells, responsiveness, lens and good software with RAW capability.
Videos and Reviews of the OnePlus 3:
OnePlus 3 Review by TechRadar:
Wrapping it up:
All in all a very good flagship Android Marshmallow capable phone for a very accommodating price point with no contracts or hassle.  If you don't mid lack of water resistance or higher slow motion frame rates, this could be the phone for you.
Full information and ordering for the phone at OnePlus website here.  
MSRP $399 No contract and fully unlocked with dual SIM cards.
(Visited 7,361 times, 1 visits today)