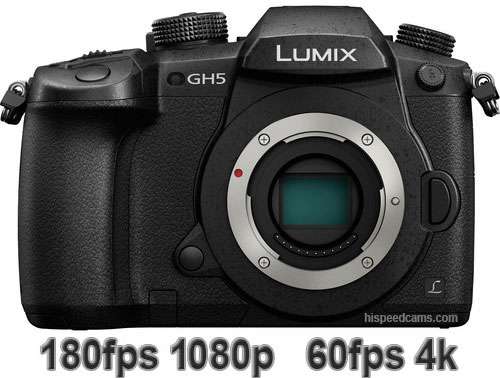 The Panasonic GH5 ushered the era of 10-bit video recording on a portable prosumer interchangeable lens camera for the first time. Panasonic promised some features which at launch would not make the cut but would be added when firmware was released that would improve the spec sheet.  The new 1.1 version of the Firmware will enable 10bit recording on 1080p 24p, 25p, 29.98, 29.97p, 59.94p & 50p all at 100 Mbps.
While the camera offered 10 Bit recording at 4k from the get go it was not available above 29.97fps which left the 60fps 4k mode out in the cold for the increased color space. The update and all subsequent ones will also do not allow 10 Bit to be used above 30p in 4k so the 60fps UHD spec will remain at 4:2:0 8 Bit color.
Panasonic GH5 firmware 1.1 update information Below:
You can click the image below to go directly to the Panasonic GH5 firmware site or click here!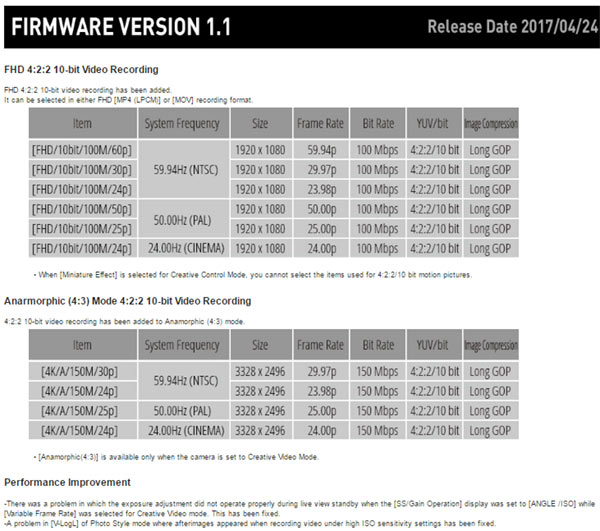 As you can see it also now enables 4k anamorphic resolutions for shooting in 10 bit 4:2:2 at full sensor width after downsampling from 6k.  However, an even later update will allow for full 6k anamorphic shooting using the entire m 4/3 sensor space without downsampling. That update will be released in the summer of 2017 according to Panasonic.
For Slow Motion fans, the Firmware 1.1 Update allows 60fps or 50fps 10 Bit 4:2:2 recording on the GH5 for full HD 1080p; which is ideal if you want to work with intermediate frame rates on blue or green screen setups. Gradations will be much better represented as will skin tones.  The 100 Mbps codec limit is good for a full HD recording on H.264 codec.
See the footage below for how to install and for a 1080p 60fps sample shot on the GH5.
How to Update your GH5/GH4 Firmware by Leo Gonzalez:
What about the AF Problems?
The Lumix GH5 continuous Auto Focus has issues and Panasonic has already stated that they are aware of the problem and are working on future improvements. There is no timeline as to when or what will be improved on this front.  However, the video below should give you some hints as to what to do with your GH5 for getting the best possible AF performance until then.  It seems all you have to do is leave it on Custom AF – OFF to get the best results.
The BEST GH5 AUTOFOCUS Settings with PhotoJoseph – Max Yuryev:
(Visited 2,851 times, 1 visits today)